Hindi version of Digital Dilemma launched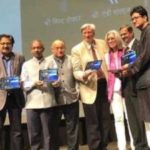 John Bailey, President of Academy of Motion Picture Arts & Sciences which is popularly known as Oscar Academy, e-launched the Hindi translation of Academy Publication "Digital Dilemma", in Delhi. The Oscar Academy works towards goal of advancing  arts and sciences of motion pictures.
Key Highlights
Oscar Academy President John Bailey launched Hindi version of 'Digital Dilemma' by National Film Archive of India (NFAI).
Developments: The Academy's Science and Technology Council in its landmark report, examined ways in which key players in movie business currently stores and access digital data. With years of research the S&T council discovered that issues related to digital storage reliability are far beyond lost snapshots and spreadsheets.
Digital Dilemma: an Academy publication is written by Milt Shelton and Andy Maltz and has been translated in many global languages. It discusses challenges of efficiently archiving and accessing massive data in the long term.
MoU: National Film Archive of India (NFAI) had signed an Memorandum of Understanding (MoU) with Oscar Academy to translate the publication into Hindi so that it can benefit various stakeholders in India. The NFAI emphasised on need of Hindi version of publication so that it would benefit different stakeholders in country.
NFAI: is India's premier organisation in film preservation, conservation and restoration. It runs under the aegis of Ministry of Information and Broadcasting.
Significance: the translation of the Academy publication into hindi is important so as to reach out to the film fraternity in India. The technological changes in the film storage mediums throw many challenges thus this book will help film makers in understanding and planning the storage of born-digital material.
Category: Art & Culture Current Affairs
Topics: Academy of Motion Picture Arts & Sciences • Digital Dilemma • Indian Film Industry • Memorandum of Understanding (MoU) • National Film Archive of India (NFAI) • Oscar Academy President John Bailey
Advertisement