Himansh, India's remote, high-altitude station opens in Himalayas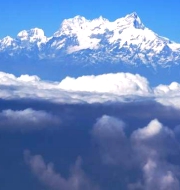 A high altitude glaciological research station in Himalaya called Himansh (meaning a slice of ice) began functioning above 13,500 ft (4000 m) in a remote region in Spiti, Himachal Pradesh.
Researchers will use this station as a base for undertaking surveys that would digitize the glacier motion and snow cover variations with exceptional precision.
Key Facts
Himansh station will provide much needed fillip to the scientific research on Himalayan glaciers and its hydrological contribution.
The research lab has been established by the National Centre for Antarctic and Ocean Research (NCAOR) in Spiti Valley, one of the most uninhabited parts of the country
The station houses instruments to quantify glacier melting and its relation to changing climate.
Some of the instruments available at this research facility include automatic weather stations, ground penetrating radars, geodetic GPS systems and other sophisticated facilities.
It will also serve as the base for Terrestrial Laser Scanners (TLS) and Unmanned Aerial Vehicles (UAVs) for undertaking surveys.
Significance
The Himalayan region has the largest concentration of glaciers outside the polar caps. It is called the "Water Tower of Asia".
It is source of 10 major river systems that provide irrigation, drinking water and power for over 700 million people (10% of world's population) living in India, Pakistan and Bangladesh.
Thus, understanding behaviour of these Himalayan glaciers and their contribution to sustainable supply of water for mankind and agriculture is one of grand challenges of Indian scientific community.
Month: Current Affairs - October, 2016
Topics: Environment • Himachal Pradesh • Himansh • National • Science and Technology
Latest E-Books