Government launches nationwide campaign Gaj Yatra to protect elephants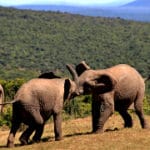 The Union Ministry of Environment and Forest has launched a nationwide campaign Gaj Yatra to protect elephants. It was launched on the occasion of World Elephant Day observed on August 12.
The ministry also released the All India Census 2017 Report on elephants and Agreed Points of Action on Trans-Boundary Conservation of Elephants by India and Bangladesh.
Gaj Yatra Campaign
The campaign is planned to cover 12 elephant range states across the country. It is 15 months campaign the will be led by the Wildlife Trust of India (WTI). The 'Gaju' mascot, which was released by the Ministry in 2012, will be helm of the campaign.
The campaign aims create awareness about elephant corridors to encourage free movement in their habitat. During the period of the campaign, artists and craftsmen will create life-size works on the theme of elephants in places along the route of the roadshow using local art and craft. Specially fabricated vehicles will be also deployed to display these on pre-determined routes with campaigners.
World Elephant Day
The World Elephant Day is observed every year on August 12 to support various stakeholders involved in supporting various conservation policies to protect elephants. It also seeks to support stakeholders involved in improving enforcement policies to prevent illegal poaching and trade in ivory, conserving elephant habitats, providing better treatment for captive elephants and reintroducing captive elephants into sanctuaries.
The World Elephant Day was conceived in 2011 by Canadian filmmakers Patricia Sims and Michael Clark of Canazwest Pictures and Sivaporn Dardarananda, Secretary-General of Elephant Reintroduction Foundation of Thailand. Now it is supported by over 65 wildlife organisations and many individuals in several countries across the globe.
Elephants
As per the available population estimates, there are about 400,000 African elephants and 40,000 Asian elephants across the globe. Asian elephants are listed as "endangered" and African elephants are listed as "vulnerable" in the IUCN Red List of threatened species.
Month: Current Affairs - August, 2017
Topics: Environment • Gaj Yatra Campaign • Government Policies • Government Schemes • National • Wildlife Protection
Advertisement