Government approves four strategic rail lines along China border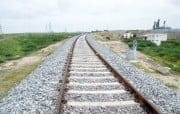 The Central Government has granted approval to four out of the 14 identified strategic rail lines. The project has been in deliberation for years.
High Level Meeting
At a high level meeting of officials from the Planning Commission, Ministry of Defence, Ministry of Railways and Ministry of Finance, the PMO ordered Indian Railways to carry out an engineering survey of the 1,000 km of line identified by the Defence Ministry to be of strategic importance. The building of the lines will be commissioned only after the survey, which acts as a blueprint.
Four strategic lines
The four rail lines which have been identified are along the China border. They are in Arunachal Pradesh, Assam, Himachal Pradesh, and J&K. The identified lines are Missamari-Tawang (378 km) in Assam-Arunachal Pradesh, North Lakhimpur-Along-Silapathar (248 km) in Assam, Murkongselek-Pasighat-Tezu-Parashuram Kund-Rupai (256 km) in Assam-Arunachal Pradesh and Bilaspur-Mandi-Manali-Leh (498 km) in Himachal Pradesh-J&K. The rail lines are expected to be used by the Armed Forces for transporting supplies for the Army and troops movement.
Details of the Engineering Survey
Before the Survey, the Railways has been given a month's time to present a report on the expected costs of the project, which will be borne by the government. The survey itself is expected to take two years, which the Railways might expedite considering the importance attached to the project.
Month: Current Affairs - October, 2014
Topics: Current Affairs - 2017
Latest E-Books