German Chancellor Angela Merkel named 2015 Time's Person of the Year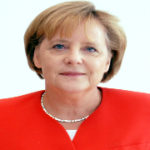 Time magazine has named German Chancellor Angela Merkel as Person of the Year 2015.
She was named for her role in Europe's crises over migration and Greek debt as she had provided steadfast moral leadership in a world where it is in short supply.
With this, Merkel became only the 4th woman since 1927 to be named winner and the first women to feature in 29 years. The other women three women to win are Wallis Simpson (1936), Queen Elizabeth II (1952) and Corazon Aquino (1986).
Islamic State (IS) leader Abu Bakr al-Baghdadi was named runner-up and US Presidential hopeful Donald Trump was placed .
About Angela Merkel
Angela Merkel (full name- Angela Dorothea Kasner) was born on 17 July 1954 in Hamburg, West Germany.
She is trained as a physicist and had entered politics after the 1989 fall of the Berlin Wall.
In 2005 national elections, Merkel became Germany's first female chancellor, and one of the leading figures of the European Union.
Prior to entering into politics, she was working as research scientist. She was elected as first women Chancellor of Germany in 2005 and since then is in office.
Time Magazine's 'Person of the Year' title
It is an annual honour that has been bestowed by the magazine. It was started in 1927. Every year it is announced in the month of December. It is given to person who is most influenced in the news during the year and is chosen for better or worse cases in the news.
Month: Current Affairs - December, 2015
Topics: Angela Merkel • Current Affairs 2016 • Germany • Persons in News • Time Magazine
Latest E-Books