Freedom Fighter Pingali Venkayya-Things to know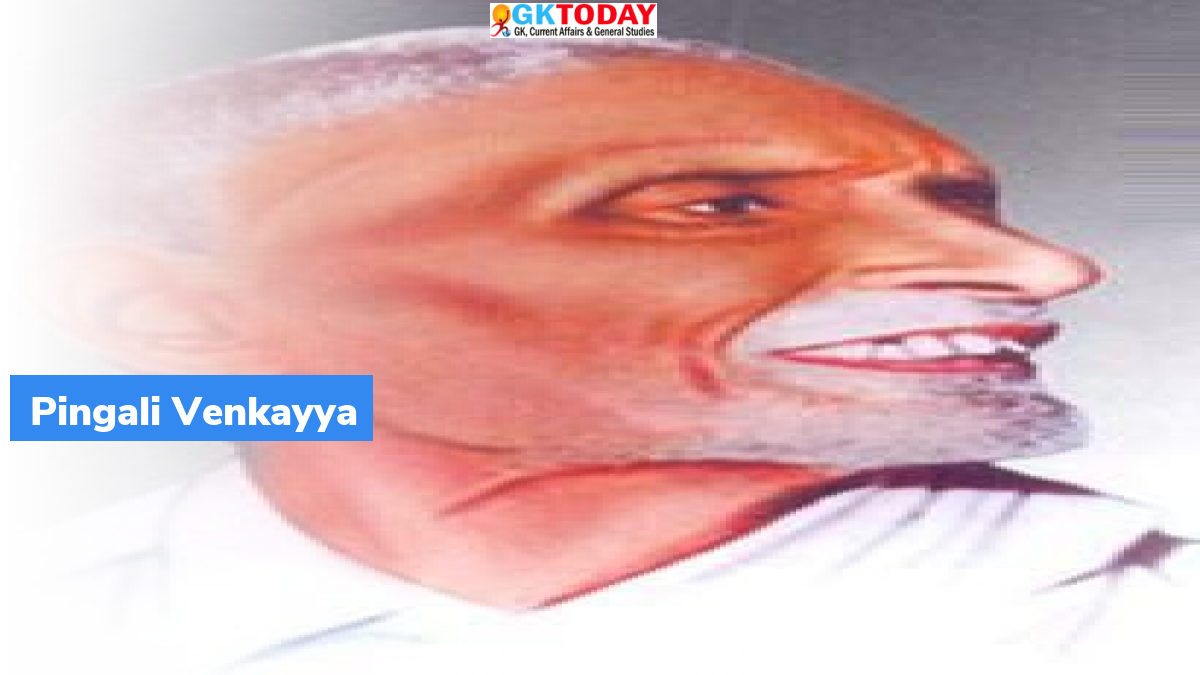 On the occasion of birth anniversary of Pingali Venkayya, Vice President Venkaiah Naidu and other members of Union Cabinet paid homage to him. Year 2021 marked 145th anniversary of Pingali Venkayya.
Highlights
Pingali Venkayya was the architect behind the design of Indian national flag.
Present-day national flag of India is inspired by the design of Pingali Venkayya.
Thus, he gave unique identity to India by means of national flag.
Significance of national flag
Any country is identified and distinguished by its unique flag, emblem, and anthem.
Flag is a symbolic expression of how any country sees and identifies itself.
India's national flag represents its values and thoughts. It defines what India believes and strives for.
Saffron colour on top symbolizes strength & courage, White colour in middle represents peace & truth while green colour at the bottom symbolises fertility, growth & auspiciousness of land.
24 spokes of the Ashok Chakra symbolises that there is life in movement and death in stagnation.
Who is Pingali Venkayya?
He was an Indian freedom fighter was born in 1876. He was born and brought up in a Telugu Brahmin family in Andhra Pradesh. Hanumantaraidu was his father and Venkataramana was his mother. He completed his high school studies in Madras and went to Cambridge University for graduation.  He was a staunch Gandhian, agriculturist, educationist, linguist, geologist and writer.
Pingali's design of flag
He designed a flag called as Swaraj Flag. It comprised of red and green bands to symbolize two major communities of India- Hindus and Muslims. His design had provided an identity to India and its people. Flag helped in uniting and giving rise to the spirit of independence among people then. He also added a white band over red over green with a charkha design onto Khadi bunting as suggested by Mahatma Gandhi. White colour represented peace and rest of communities residing in India while the spinning wheel symbolized progress of the nation.
Month: Current Affairs - August, 2021
Category: Persons in News
Topics: Ashok Chakra • Indian Freedom Fighter • Indian National Flag • Pingali Venkayya • Swaraj Flag
Latest E-Books