First flight of BrahMos missile from SU-30 MKI aircraft successfully conducted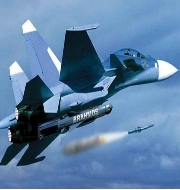 BrahMos Aerospace for the first time successfully demonstrated integration of the world's most formidable supersonic cruise missile system BrahMos on the Sukhoi SU-30 MKI fighter aircraft.
In this regard, Hindustan Aeronautics Limited's (HAL) Nasik division conducted a test flight of a 2,500 kg supersonic BrahMos missile integrated with SU-30 MKI aircraft at its Nasik airport.
With the successful integration of BrahMos missile system with Su-30 MKI aircraft
Indian Air Force (IAF) became the first air force in the world in procession of a supersonic cruise missile system with a long range fighter aircraft.
IAF also moved few steps closer towards actual test firing when a 2.5 tonnes supersonic BrahMos air-to-ground missile from the Su-30 MKI.
Comment
The powerful supersonic BrahMos missile will enable the IAF to penetrate deep inside the enemy territory to deliver a deadly blow to their vital installations from stand-off ranges.
The Sukhoi-BrahMos combination will also help IAF to carry out air combat operations within and beyond visibility range.
About BrahMos missile
BrahMos supersonic cruise missile has been designed and developed by BrahMos Aerospace, a joint venture of India and Russia.
Missile's name has been derived from the names of two rivers, India's Brahmaputra River and Russia's Moskva River.
Features: It has top supersonic speed of Mach 2.8 and is capable of carrying a warhead of 300 kilogram.
It is two-stage missile, the first one being solid and the second one ramjet liquid propellant. It can strike a target at maximum range of 290 km.
Month: Current Affairs - June, 2016
Topics: BrahMos missile • Defence • Hal • Indian Airforce • missile technology • supersonic missile
Latest E-Books