Fire in ONGC Plant in Mumbai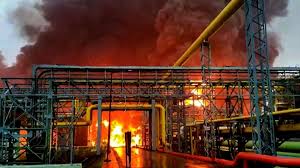 A large fire broke out in a plant belong to Oil and Gas Natural Corporation (ONGC) located in Uran, Navi Mumbai. While the fire was successfully contained within two hours, it caused the death of five people and eight others were injured.
What has happened?
As per a statement put out by the ONGC, they informed that a fire broke out in the storm-drainage facility in the Uran Plant.
The fire was controlled by the firefighting units belonging to the ONGC fire services and crisis management team and was contained within a short duration.
Local administrative authorities put up a barricade in the area around the plant for a radius up to two kilometers. To ensure the safety of locals, all residential areas around the plant have been evacuated.
ONGC has also claimed that there will be no impact of the fire on the processing capacity of oil at the plant.
For the duration of the fire, all-natural gas has been diverted to the Hazira plant located in Gujarat.
Effect on Mumbai City Gas Supply
The fire in Uran plant has impacted the supply of natural gas to the city of Mumbai.
The responsibility to supply natural gas to the city of Mumbai is with the Mahanagar Gas Ltd (MGL). MGL supplies domestic, industrial and vehicular gas to all consumers in Mumbai area.
MGL has been providing CNG and PNG to all residents of Mumbai Metropolitan Region (MMR) for the past 22 years.
However, the fire at Uran Plant has affected the supply of gas to the central MGL distribution station at Wadala.
While MGL and ONGC maintain that the supply of natural gas is adequate to ensure full supply to the domestic PNG consumers would be maintained without any disruption.
However, the shortfall of fuel has meant that several Compressed Natural Gas (CNG) stations in Mumbai will remain inoperable due to low pressure in the source pipeline coming from ONGC.
Hence, all Industrial and commercial customers have been advised to use alternate sources of fuel for the coming duration.
Topics: BSE SENSEX • CNX Nifty • Companies • Compressed natural gas • Fuel gas • Geography of Maharashtra • Mahanagar Gas • Natural gas • Oil and Natural Gas Corporation • ONGC F.C. • States and union territories of India • Uran
Latest E-Books