Europe's Largest Solar Power Plant: Francisco Pizzaro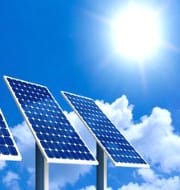 Spain and France have recently signed an agreement to build 590 MW of solar power plant. This will be the largest solar power plant in Europe. The agreement was signed between Iberdola of Spain and Donone of France.
About the Power Plant
The solar power plant is to be built at a cost of 364 million USD.
The solar power plant is to be located in the western province of Caceres located in Spain.
The solar power plant will avoid emission of 245,000 tonnes of Carbon Dioxide.
It is to supply power to 375,000 people per year.
The project is to begin supplying power in 2022.
Spain
Spain is currently the busiest subsidy free photo-voltaic market of Europe. In 2020, Spain commissioned 2.9 GW of solar power. In 2019, Spain added 729 MW of solar power. Hence, the 2020 addition is four times that of the 2019 addition.
France
France has set a target of installing 18 to 20 GW of solar power by 2023. In 2016, France along with India laid the foundation of International Solar Alliance. Though France is not a country located in the tropics, it has joined hands with India in International Solar Alliance. This is mainly because the International Solar Alliance was framed and announced at the United Nations Framework Convention on Climate Change, 2015 (the Paris agreement conference) hosted by France.
The International Solar Alliance mainly aims to bring about major decrease in cost of solar energy. This is to be achieved by involving countries rich in solar energy, that is, those countries located between the Tropic of Cancer and Tropic of Capricorn.
Solar Energy in India
India has been increasing its solar power capacity. As of November 2020, the installed solar power of India was 36.9 GW. India has established 42 solar parks to make land available to the promoters of solar plants. India has set a target of achieving 100 GW of solar power by 2022.
Month: Current Affairs - January, 2021
Category: International Current Affairs • Science & Technology Current Affairs
Topics: France • India solar energy • photovoltaic technology • Solar Energy • Solar power • Spain
Latest E-Books