Emergency Summit of OIC held in Istanbul to discuss Israel-Palestine violence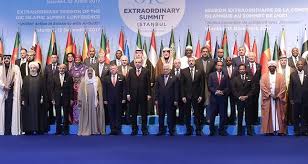 The 57-member Organization of Islamic Cooperation (OIC) held extraordinary summit in Istanbul, Turkey to discuss recent Israeli violence against Palestinian protesters in Gaza Strip. The summit was convened at the invitation of Turkish President Recep Tayyip Erdoğan. It condemned massacre of Peaceful Palestinian civilian protestors by the Israeli forces as well as on the official opening of US Embassy in Jerusalem in defiance of international law, UN Security Council (UNSC) and General Assembly (UNGA) Resolution.
Background
Recently violent protests were held in Gaza which coincided with Israel's 70th anniversary – an event Palestinians refer to as Nakba or "Catastrophe" and relocation of the US Embassy to Israel from Tel Aviv to Jerusalem. In these protests more than 100 palestinian protesters were killed by Israeli security forces deployed along the other side of the border. Turkey had responded to the violence by asking Israeli ambassador to leave the country, while also recalling its ambassadors to US and Israel for consultations.
Organisation of Islamic Cooperation (OIC)
OIC is international organization that aims to provide collective voice to Muslim world and safeguard and protect interests of the Muslim world in the spirit of promoting international peace and harmony. It was established in 1969 and has administrative centre (headquarters) in Jeddah, Saudi Arabia.
OIC consists of 57 member states spread over four continents with collective population of over 1.3 billion as of 2009 with 47 countries being Muslim Majority countries. It has permanent delegations to United Nations and the European Union. Its official languages are Arabic, English, and French. It is second largest inter-governmental organization after UN.
Issues with India: In this organisation, India is a blocked country, though it second largest country (after Indonesia) in terms of Muslim population (It has about 12% of the world's Muslim population). India has been blocked by Pakistan from joining the OIC over Kashmir issue. OIC regard parts of Kashmir as "occupied by India".
Month: Current Affairs - May, 2018
Topics: Emergency Summit • Israel-Palestine violence • Organisation of Islamic Cooperation • Recep Tayyip Erdogan • Turkey
Latest E-Books