Development of products for protection against CBRN agents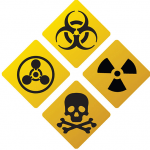 The DRDO bio-suit is only the recent addition to a series of CBRN defence equipment being produced by India.
CBRN Defence
CBRN or Chemical, Biological, Radiological and Nuclear defence is the protection against hazardous materials that are chemical, biological or radiological in origin. It involves:
Passive protection
Avoidance of contamination
Mitigation
Such defence products are generally used in protection against CBRN warfare.
Examples of CBRN Agents
Chemical agents: nerve agents, toxic industrial chemicals like chlorine, incapacitating agents, riot control agents, toxins, etc.
Biological agents: anthrax, botulism, small pox, plague, MERS, SARS, etc.
Radiological agents: ionising radiation from radioactive compounds.
CRBN Defence in India
Some of the products in India used for defence against CBRN agents are:
NBC Suit Mk V: protects the wearer from chemical vapours, biological agents and radiological dusts.
Reusable suit designed by INMAS for first responders to radiological emergencies.
Respiratory Mask Mk I and II
Automatic chemical agent detector & alarm (ACADA), etc.
Category: Defence Current Affairs • Science & Technology Current Affairs
Topics: CBRN Defence • DRDO • INMAS • PPE
Latest E-Books