Cyclone Fani likely to intensify into 'Very Severe Cyclonic Storm'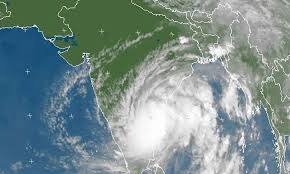 According to The India Met Department (IMD) Cyclone Fani in South East Bay of Bengal is likely to intensify from a severe cyclonic storm into a 'very severe cyclonic storm' as it approaches coastal Tamil Nadu by 30 April. Later, IMD issued red alert for Kerala and Tamil Nadu and asked fishermen to avoid going into sea in South East Bay and adjoining equatorial Indian Ocean and those already at sea to return immediately till further notice.
A very severe cyclonic storm means Fani will get 'category three' storm status on five-step Saffir-Simpson scale (or Saffir–Simpson hurricane wind scale).
The Cyclone Fani
It was formed at low pressure region in south east of Sumatra (Indonesian island), which further intensified into a depression.
It is expected to hit Tamil Nadu at speeds of over 100 kmph by 30april and is unlikely to cross Tamil Nadu coast and south Andhra coast.
It will result in light to moderate rainfall in coastal Tamil Nadu, Puducherry and Kerala and rainfall at isolated places in South Coastal Andhra Pradesh.
Currently moving in north westwards direction at a speed of 21 kilometres per hour, it is expected to slowly change direction after May 1 to north and north-eastward
In past similar cyclones observed during summer months which recurve leave atmosphere high and dry and results in soaring temperatures after its passes. It is yet to be seen if cyclone Fani is going to repeat same.
Cyclone in recent years:
In 2017 Cyclone Ockhi hit parts of Kerala, Tamil Nadu and Sri Lanka.
Cyclone Gaja, Cyclones Sagar (in Somalia), Cyclone Mekunu (striked Oman), Cyclone Luban (affected the Arabian Peninsula) and Cyclone Titli (made landfall near Palasa, Andhra Pradesh)were part of 2018 North Indian Ocean cyclone season.
Cyclone Pabuk originated over the Gulf of Thailand, in 2019
The Saffir-Simpson Hurricane Wind Scale
It classifies hurricanes or Western Hemisphere tropical cyclones that exceed intensities of tropical depressions and tropical storms into five categories or 1 to 5 rating based on intensities of their sustained winds.
It estimates potential property damage.
Cyclones reaching Category 3 and higher are considered alarming because of their potential for significant loss of life and damage.
Tropical Cyclone
They are also known as Hurricanes (in Atlantic), Typhoons (in Western Pacific and South China Sea), Willy-willies (in Western Australia).
It is an intense circular storm that originates over warm tropical oceans and is characterized by low atmospheric pressure, high winds, and heavy rain.
It draws energy from sea surface, maintains its strength as long as it remains over warm water, and generates winds that can exceed 119 km (74 miles) per hour.
Month: Current Affairs - April, 2019
Category: Environment Current Affairs
Topics: 2018 North Indian Ocean cyclone season • Cyclone Fani • Hurricanes • India Met Department • Saffir–Simpson hurricane wind scale • Sumatra • Tropical Cyclone • Typhoons • very severe cyclonic storm
Latest E-Books