Current Affairs : October 16 -19, 2011
"Occupy Wall Street" Movement: Protesters fill New York City's Times Square

Thousands of protesters occupied New York City's Times Square, buoyed by a day of demonstrations around the world in support of their month long campaign against corporate greed.

It is a People powered Movement, Ongoing in New York City based in
Zuccotti Park in the Wall Street financial district

Causes: Wealth inequality, Corporate influence of government, Social Democracy, inter alia.

Characteristics:     Non violent protest; Civil disobedience; Occupation; Picketing; Demonstrations; Internet activism

Slogan: "We are 99%"

99% is an fantasy % that represents the common people and 1% the elite class in USA


National Women Boxing Championships concludes in Bhopal; Mary Kom adjudged Best Boxer; Suman, Neetu, Chann, Rani, Goyat, Jenny clinch Gold

12th Senior National Women Boxing Championship concluded in Bhopal. Suman and Neetu Chahal of Haryana, Mandkini Chann of All India Police, Meena Rani of Railways Sports Promotion Board, Kavita Goyat of Delhi and Jenny RL of Mizoram clinched gold in their respective categories.


Five time World Champion M C Mary Kom of Manipur was adjudged as the Best Boxer.




Fauja Singh : 100 year old Marathon Runner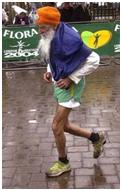 Fauja Singh, a 100 year old India-born runner became the oldest person to complete a full-distance marathon when he completed the race in Toronto. It took Singh 8:11:06 to cross the finish line.

He finished the marathon more than 6 hours after Kenya's Kenneth Mungara won the event. Singh was the last competitor to finish the Race.

His Biography is titled "Turbaned Tornado"

Uday Kumar Varma appointed as new Secretary, I&B Ministry

Mr. Uday Kumar Varma appointed as the new Secretary of Ministry of I & B. An IAS Officer of 1976 batch, Mr. Varma succeeds Mr. Raghu Menon after his superannuation.

Power of forfeiture vested with only competent court: Supreme Court

The Apex Court interpreting Section 54(1) of the Wild Life (Protection) Act, 1972, held that forest officials have no power to order forfeiture of items like vehicles and weapons from poachers if the offence has been intensified at the executive level.

SC ruled that the power of forfeiture is enthroned with only the proficient court and no such power can be worked out by forest officials who can merely compound an offence.

'Save Sharmila Solidarity Campaign" launched from Srinagar

Asking for the revocation of the Armed Forces (Special Powers) Act (AFSPA), activists of the "Save Sharmila Solidarity Campaign (SSSC)" in order to remove the black law of AFSPA from J&K and the Northeast.

Election Commission: Common Symbol for Registered-Unrecognized Political Parties

Subject to certain conditions, the Election Commission has permitted Registered-Unrecognised Political Parties to have a common symbol as a one-time offer during general elections either to Lok Sabha or to a State Assembly. Decision taken via an amendment in the Election Symbols (Reservation and Allotment) Order, 1968.

The allowance comes due to the requests by various political parties, which had also moved to the Supreme Court, looking for a course to the EC to deem making apt alterations in the Symbol Order.

'Saranda Action Plan' finalized by the Government for Naxal-hit districts

The Govt has finalized a developmental action plan in Naxal affected districts particularly in eastern India. The 'Saranda Action Plan', set by Rural Development Ministry, will be implemented firstly in Jharkhand's Naxal-hit Saranda district.


As per the plan, instant precedence is to allocate solar lanterns and bicycles, construction of prefab houses for BPL families under the Indira Awas Yojana and bridges with the help of the Army and special water supply – hand pump schemes. 



India's first F1 track Buddh International Circuit Unveiled

India's First F1 (Formula One) Racing Track: The Buddh International Circuit was unveiled at Greater Noida. First ever F1 Grand Prix to held in India from October 28, 2011 to October 30, 2011. 

Approximate length: 5.14 km

Area: 875 acres (354ha)

Track designer: "Hermann Tilke"

Turns: 16

Originally known as the Jaypee Group Circuit or the Jaypee International Race Circuit after the circuit's owners, the circuit was officially named the Buddh International Circuit in April 2011.

The 10-year contract for the race has been given to the Indian construction company Jaiprakash Associates. According to experts, the benefits of a booming economy like India joining the F1 calendar are clear. Not only would the hotel and tourism industry get an immediate boost, the country's profile, too, would get a lift.

Israeli Soldier 'Gilad Shalit' released in swap deal for several Palestinian captives

The Israeli soldier 'Gilad Shalit' and hundreds of Palestinians were released in a Historic prisoner swap deal b/w the Isreal and Palestine. It activated festivities in both Israel and the Palestinian dominions.

Ratan Tata bags the 'Swiss Ambassador's Award for Exceptional Leadership'

Ratan Tata (Tata Group Chairman) awarded with the 'Swiss Ambassador's Award for Exceptional Leadership'.


The award recognizes persons who have contributed to the endorsement of Indo-Swiss bilateral relations or have stood out for their outstanding role in the society and industry.

'Man Booker Prize' for Julian Barnes

This year's Man Booker Prize was awarded to Mr. Julian Barnes, the British Author for his novel "Sense of an Ending'. The Book is about a man facing his past.

Super Cup: East Bengal wins

East Bengal defeated Salgaocar 5-4 in sudden death to lift the Super Cup in New Delhi. 

Supreme Court: Lavatories must in Government Schools by November, 2011

The apex Court has directed all States and UTs to construct toilets, especially for the girls, in all Government run Schools by the end of November, 2011. The order was issued on a PIL in quest for direction of SC to Governments to provide basic facilities of drinking water and toilets in Schools.

FC Barcelona to set base in India

FC Barcelona, World's premier football club declared its venture into grass-root growth of the game in India with a motivated talent exploration project. 


A week long Football Camp to be held in New Delhi in January 2012 by the Club during its first sporting venture in India. The Camp will be for the youth b/w 6-14 years.
Month: Current Affairs - October, 2011
Category: Government Schemes Current Affairs
Topics: Armed Forces (Special Powers) Act • Buddh International Circuit • Delhi • Fauja Singh • Greater Noida • India • Indian Grand Prix • Jaypee • Jaypee Group • Noida • Ratan Tata • Tata Group
Latest E-Books