Current Affairs – January 7, 2021 [Today's News Headlines]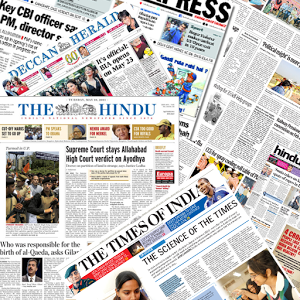 Here are today's news headlines by GK today for January 7, 2021
India
Bird Flu: 5 states confirmed
On January 6, 2021, the Minister of State for animal husbandry Sanjeev Baliyan confirmed that five states have been affected by bird flu. The states are Rajasthan, Himachal Pradesh, Haryana, Kerala and Madhya Pradesh.
Longitudinal ageing study of India
On January 6, 2021, the Union Health Minister Dr Harsh Vardhan released the Longitudinal Ageing Study of India. It is a full scale National survey of scientific investigation of economic, health and social determinants and consequences of population ageing in India.
Government of India approves human wildlife conflict advisory
The National Board of Wildlife recently approved the advisory for management of human wildlife conflict. The advisory envisages to empower the gram panchayats to deal with human wildlife conflict under the Wildlife Protection Act, 1972.
Sabarimala rail project cost to be shared between Kerala and Centre
On January 6, 2021, the State Cabinet of Kerala decided to make available funds from Kerala Infrastructure Investment Fund Board. Alongside the Kerala government has agreed to bear 50% of the cost of the Sabarimala rail project along with the centre.
Supreme Court to study anti conversion laws
on January 6, 2021, the supreme court agreed to examine the constitutional validity of the anti-conversion law was enacted by the state such as Uttarakhand and Uttar Pradesh. These laws criminalize religious conversion via marriages. They mandate prior official clearance before marrying into another faith.
Bombay High Court: using God's name to sell articles is illegal
The Bombay High Court recently declared that the advertisement of an article using the name of god and claiming that it has Supernatural qualities is illegal. The declaration has been made under the Maharashtra prevention and eradication of human sacrifice and other human, evil and Aghori practices and black magic act.
Economy and corporate
Andhra Pradesh and Madhya Pradesh get additional financial assistance for completing citizen centric reforms
The Government of India has provided additional financial assistance of 344 crores of Rupees to Madhya Pradesh and 660 crores of Rupees to Andhra Pradesh for capital expenditure after they completed three out of four citizen-centric reforms. The states have completed ease of doing business reforms, one ration card reforms and urban local body reforms.
PMI falls to 52.3 from 53.7
The Purchasing Managers Index fell from 53.7 to 52.3 in December.
KVIC signs MoU with ITBP
On January 6, 2021, the Khadi and Village Industries Commission signed a Memorandum of Understanding with the Indo Tibetan Border Police to supply 1,72,000 cotton durries every year.
World
BRICS Bank Agreememt
on January 5, 2021,the Brazil economy ministry said it has defaulted on its penultimate capital installment to the new Development bank. In 2015, Brazil agreed to pay its contribution to capitalise the bank in 7 installments.
PM Modi holds video conference with the German chancellor
On January 6, 2021, the Prime Minister Narendra Modi held video teleconference with his German counterpart Dr Angela Merkel. The leaders discussed the key issues such as covid-19 pandemic, bilateral ties and issues related to India and European Union relations.
Government of India clears India Japan mobility of skilled workers
On January 6, 2021, the Union Cabinet approved the signing of agreement between India and Japan to institutionalize a mechanism for cooperation in sending skilled Indian workers to Japan. The Indian skilled workers should have qualified in Japanese language test.
External affairs minister meets his Srilankan counterpart
On January 6, 2021, the External Affairs minister S Jaishankar met his Srilankan counterpart Dinesh Gunawardena.
Sports
Claire Polosak becomes first woman to officiate in men's test match
Claire Polosak of Australia has become the first woman to match official in men's test. She is to take up as the fourth umpire role in the third test of Australia-India series starting at Sydney Cricket Ground.
Book on India-Australia cricket tours released
The Journey to Triumph in Australia book was released on January 6, 2021. It reflects on previous 12 tours of India.
Month: Current Affairs - January, 2021
Category: Today's News Headlines
Topics: Current Affairs Headlines • Current Affairs: News Headlines • Headlines • Latest News Headlines • News Headlines • Top Headlines
Latest E-Books