Current Affairs – January 22, 2021 [Today's News Headlines]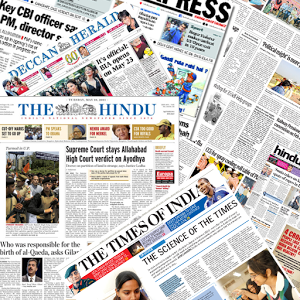 Here are Today's News Headlines by GK Today for January 22, 2021
India
Meghalaya, Tripura and Manipur celebrate Statehood Day
On January 21, 2021, Meghalaya, Manipur and Tripura celebrated their statehood day. The three states gained their statehood on January 21, 1972.
Exercise Kavach
The larges scale joint military exercise Kavach involving Indian Army, Indian Navy and Indian Air Force is to be held in January 2021 under the Andaman and Nicobar Command.
HAL test fires SAAW
On January 21, 2021, the HAL successfully test fired the Smart Anti Airfield Weapon, SAAW from the Hawk aircraft.
Fire at Serum Institute of India, Vaccine works unaffected
On January 21, 2021, a major fire broke out at the building of Serum Institute of India in Pune. The Manjri facility located in the outskirts of Pune is where the COVISHILED vaccine is produced.
Election Commission allows those excluded from NRC to vote in assembly poll
On January 20, 2021, the Election Commission announced that those excluded from the National Register of Citizens will be eligible to vote in the upcoming Assam assembly poll.
Economy and Corporate
Indian Army sign MoU with SIDM
The Indian Army signed a Memorandum of Understanding with the Society of Indian Defence Manufacturers to provide impetus to indigenization and achieve strategic independence to reduce dependence on foreign origin equipment.
MASCRADE 2021 organised
On January 21, 2021, the Union Health Minister Dr Harsh Vardhan inaugurated the seventh edition of "MASCRADE 2021". MASCRADE is Movement against Smuggled and Counterfeit Trade. It is organised by FICCI.
Centre proposes suspending implementation of three new Farm Laws for 1.5 years
The Central Government recently proposed to suspend the implementation of farm laws up to a year and a half. According to the Government, this is being done to arrive at a consensus with the farmer union. The farmer union announced that they will revert on January 22, 2021.
PMAY-Urban: Centre approves construction of 168,000 houses
The Government of India recently approved the construction of 1.68 lakhs of houses in urban areas under the Pradhan Mantri Awas Yojana. This will increase the total sanctioned houses under the scheme to 1.1 crores.
SEBI nods to Reliance-Future deal
On January 20, 2021, SEBI approved the Future Group's Scheme of arrangement. Also, SEBI approved sale of assets of Reliance.
Shyam Srinivasan named Business Standard Banker of the Year 2019-20
Shyam Srinivasan, the Chief Executive Officer and Managing Director of Federal Bank was named as the Business Standard Banker of the year for 2019-20.
Month: Current Affairs - January, 2021
Category: Today's News Headlines
Topics: Current Affairs Headlines • Current Affairs: News Headlines • Headlines • Latest News Headlines • News Headlines • Top Headlines
Latest E-Books