Current Affairs – January 14, 2021 [Today's News Headlines]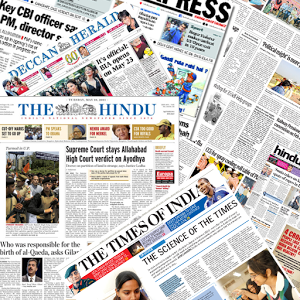 Here are Today's News Headlines by GK Today for January 14, 2021
India
NIC and CBSE to jointly launch CollabCAD Software
National Informatics Centre and Central Board of Secondary Education, CBSE will jointly launch CollabCAD Software on January 14, 2021 to provide a total engineering solution for students and Faculty of Engineering Graphics Curriculum. This initiative aims to provide a platform to students across the country to create and modify 3D digital designs. This software will enable students to collaborate over designs across the network and concurrently access the same design data for storage and visualization.
SC takes cognizance of pollution in Yamuna river by Haryana
The Supreme Court on January 13, 2021 took suo motu cognizance of pollution in the Yamuna after Delhi Jal Board (DJB) alleged that water containing high pollutants is being released in the river from Haryana. DJB recently moved the top court alleging this and a sought a direction to Haryana to ensure that pollutant free water is released in the river.
Publication of notice under Special Marriage Act optional: Allahabad HC
In a significant judgment affecting inter-faith couples seeking to get married under the Special Marriage Act, 1954, the Allahabad High Court has ruled that it would be optional and not mandatory for them to publish a notice about their intended marriage. The provision for mandatory publication of notice, derived through "simplistic reading" of the particular law, "would invade in the fundamental rights of liberty and privacy, including within its sphere freedom to choose for marriage without interference from state and non-state actors, of the persons concerned," the court said in a judgment delivered on January 12.
BSF finds 150-metre cross-border tunnel along J&K border
A 150-m tunnel constructed along the International Border (IB) to facilitate infiltration of terrorists into Jammu and Kashmir from Pakistan was detected by Border Security Force (BSF) personnel in Hiranagar sector of Kathua district on January 13, 2021.
Noted social activist D. Prakash Rao dies in Cuttack at 63
Noted social activist and 2019 Padma Shri awardee D. Prakash Rao passed away in Cuttack on January 13, 2021 at the age of 63. Despite having only, a modest tea stall in Cuttack, he ran a small school to provide education to slum kids free of cost.
Economy & Corporate
Govt. approves procurement of 83 LCA-Tejas from HAL for IAF
Government has approved procurement of 83 Light Combat Aircraft, LCA, Tejas worth about Rs 48,000 crore from Hindustan Aeronautics Limited for the Indian Air Force.
RBI sets up panel to suggest measures for promoting digital lending
Amid rising incidents of harassments relating to online lending, the Reserve Bank on January 13, 2021 constituted a working group to suggest regulatory measures to promote orderly growth of digital lending. The working group, chaired by RBI Executive Director Jayant Kumar Dash, will consist of both internal and external members, and submit its report within three months.
Funds spent by corporates on Covid vaccination drive to count as CSR activity
The ministry of corporate affairs (MCA) has permitted the funds spent on awareness programmes and public outreach campaigns regarding the Covid-19 vaccination drive, to be classified as corporate social responsibility (CSR) activity. These would fall under the permitted CSR activities as per the seventh schedule of the Companies Act, 2013, the ministry said in a circular on January 13, 2021.
CBDT launches e-portal for reporting tax evasion, 'benami' assets
The Central Board of Direct Taxes (CBDT) has launched an e-portal for filing complaints about tax evasion, 'benami' properties and undisclosed assets overseas. "Taking another step towards e-governance and encouraging participation of citizens as stakeholders in curbing tax evasion, the CBDT has launched an automated dedicated e-portal on the e-filing website of the Department [Income-Tax] to receive and process complaints of tax evasion, foreign undisclosed assets as well as complaints regarding 'benami' properties," it said on January 12, 2021.
U.S. says India's Digital Services Tax discriminatory
The U.S. has determined that India's Digital Services Tax is discriminatory and has an adverse impact on American commerce and is actionable under the trade act. At the same time, the outgoing Trump administration has left the onus of taking any action against India under Section 301 of the U.S. Trade Act to the incoming Biden administration. Publishing the results of the investigation on the Digital Service Tax (DST) in the Federal Register on January 12, 2021, the U.S. Trade Representatives (USTR) said that it had consultations with the Indian Government on the issue on November 5, 2020.
World
Trump impeachment: US House approves 25th Amendment resolution
The US House of Representatives on January 13, 2021 passed legislation calling on Vice President Mike Pence to use his constitutional authority to remove President Donald Trump from office in response to the President's role in the deadly mob attack on the Capitol on January 7. The bill passed 223-205. However, Vice President Mike Pence, in a letter to US House Speaker Nancy Pelosi, said that he would reject the call to invoke the 25th Amendment to remove President Donald Trump.
Estonia's PM Juri Ratas resigns over corruption scandal in his party
Estonia's prime minister Juri Ratas has handed in his resignation to the Baltic country's president after a corruption scandal investigated by the police and prosecutors in his Center Party led to key party officials resigning overnight. The move automatically prompts the resignation of Estonia's three-party coalition government.
Month: Current Affairs - January, 2021
Category: Today's News Headlines
Topics: Current Affairs Headlines • Current Affairs: News Headlines • Headlines • Latest News Headlines • News Headlines • Top Headlines
Latest E-Books