Current Affairs – December 24, 2020 [Today's News Headlines]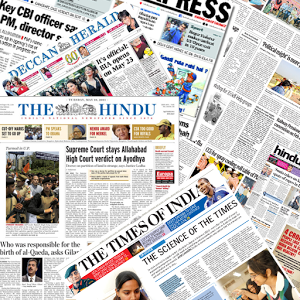 Here are Today's News Headlines for December 24, 2020
India
MRSAM Test successful
The Medium Range Surface to Air Missile for the Indian Army was successfully tested on December 23, 2020. It is jointly developed by DRDO and the Israel Aircraft Industries.
International Science Literature Festival
The CSIR, Ministry of Earth Science and Vijnana Bharati jointly organised the inaugural session of Vigyanika International Science Literature festival. The festival was launched to mark the birth anniversary of Srinivasa Ramanujan on December 22, 2020.
ISRO to set up Regional Academic Centre for Space in IIT Varanasi
The ISRO will establish a regional academic centre for space at IIT Varanasi to facilitate short- and long-term projects in the institute.
National Farmers Day celebrated on December 23
The National Farmers Day was celebrated on December 23 all over the country. The day is celebrated to honour the fifth Prime Minister of India Choudhary Charan Singh.
All Film Media Units are to be merged
The Government of India recently approved to merge all the Film Media unites operating under Ministry of Information and Broadcasting.
Contest to strengthen Digital Network Platform for Vaccine
On December 23, 2020, the Government of India launched a technology contest to invite solutions from IT companies and startups to strengthen digital platform CoWIN. The GoI is also enhancing eVIN, Electronic Vaccine Intelligence Network.
Sugathakumari, Malayalam poet-activist died
The Malayalam poet, women activist, Sugathakumari died of COVID-19 on December 24, 2020.
Changes to Post Matric Scholarship announced
The Government of India has announced transformatory changes to post matric scholarship for students from Scheduled Castes. The share pattern between the centre and state is to be 60:40. Under the scheme, the GoI provides financial assistance to students from Scheduled Caste and also to students from households whole annual income is less than Rs 2.5 lakhs.
Economy and Corporate
100% FDI in DTH service approved
On December 23, 2020, the Union Cabinet approved 100% FDI in direct-to-home service. The license fee was reduced and extended from ten years to twenty years.
RBI cautions against unauthorised Digital lending applications
On December 23, 2020, the Reserve Bank of India has issued note of caution to the public against the use of unauthorised lending applications. The apex bank has cited recent media reports on unethical collection practices and arbitrary interest rates that are charged by some of these applications.
President Trump confers Legion of Merit to PM Modi
On December 21, 2020, President Trump conferred the Legion of Merit to PM Modi for his role in bringing India as a global power.
S Jaishankar holds virtual meeting with his Spanish counterpart
On December 23, 2020, the external affairs minister S Jaishankar held virtual meeting with his Spanish counter part. The leaders exchanged notes about the pandemic situation.
"Republic Bharat" fined by UK regulator
The Hindi News Channel "Republic Bharat", an arm of the Republic TV was fined by the UK Communications regulator Office of Communications for broadcasting content that involved hate speech. The fine was levied with reference to the daily current affairs discussion programme Poochta Hai Bharat presented by Arnab Goswami.
Israel to hold snap polls
Knesset, the Israel Parliament, was dissolved after two main parties failed to meet a deadline in passing the budget.
Sports
8 Khelo India Centres of Excellence inaugurated across India
On December 22, 2020, the Sports Minister Kiren Rijiju inaugurated eight Khelo India Centres of Excellence across India. The centres are located in the states of Arunachal Pradesh, Manipur, Mizoram, Telangana, Kerala, Nagaland, Odisha and Karnataka.
Month: Current Affairs - December, 2020
Category: Today's News Headlines
Topics: Current Affairs Headlines • Current Affairs: News Headlines • Headlines • Latest News Headlines • News Headlines • Top Headlines
Latest E-Books