Arunachal has 35% of India's Graphite Deposits: GSI Report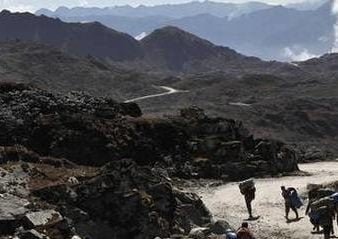 The Geological Survey of India (GSI) in its report revealed that about 35 % of India's total Graphite reserves is found in Arunachal Pradesh. This is the highest found in country.
Key findings of Report
About: The GSI presented the said data during its annual interactive meeting with the Department of Geology and Mining & Industries, Government of Arunachal Pradesh in Itanagar (Arunachal Pradesh Capital).
Issue: At present India imports majority of Graphite from other countries.
Importance: With 35 % of India's Graphite deposits being found in Arunachal Pradesh, the State could now be developed as leading producer of graphite in country thus helping in meeting its future needs.
Suggestions: The Arunachal Pradesh's secretary of Department of Geology and Mining suggested that the survey and drilling activities of GSI should be moved towards India-China international Border.
As per the reports China is undertaking huge graphite mining activities across the border in Tibet Autonomous Region. Therefore, road and infrastructure development towards the (Sino-India) international border should act as a boon for exploration and extraction of mineral at the same time meeting India needs and reducing imports.
Note: of the total 3,488 km border India shares with China, Arunachal Pradesh shares 1,126 km.
About Geological Survey of India (GSI)
It was founded in 1851 with primarily goal of finding coal deposits for the Railways.
It is an attached office to the Ministry of Mines and it is Headquartered in Kolkata.
Function: To create and update national geoscientific information and mineral resource assessment.
Services Undertaken: The objectives of GSI are achieved through various surveys like marine, air-borne, ground, and also by mineral investigations. It also undertakes multi-disciplinary studies like geo-environmental, geoscientific, geo-technical, and natural hazards, and carrying out fundamental research.
About Graphite
It is the most stable allotrope of Carbon, with standard entropy being zero.
It is the only non-metal element which is a good conductor of electricity.
It is also known as a dry lubricant for its greasy feel.
It has many industrial applications, especially for products that need very high heat.
Month: Current Affairs - May, 2019
Category: Environment Current Affairs
Topics: Arunachal Pradesh • China • Department of Geology and Mining • Geological Survey of India • Graphite Reserve • GSI • Ministry of Mines • Survey of India • TAR • Tibet Autonomous Region
Latest E-Books