Amit Shah delivers 32nd Intelligence Bureau (IB) Centenary Endowment Lecture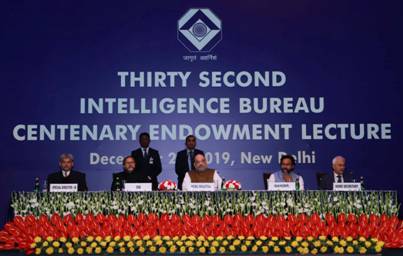 The Centenary Endowment Lecture provides an opportunity for the Intelligence Bureau personnel to hear leaders, thinkers, and intellectuals speak on current-day issues. The lecture is being organized annually by the Intelligence Bureau with the aim to rededicate its personnel towards maintaining the highest level of professionalism.
The Union Home Minister of India, Amit Shah delivered the 32nd Intelligence Bureau Centenary Endowment Lecture on Monday, 23rd December 2019 at New Delhi.
Highlights from Home Minister's Lecture:
The Government of India is committed to completely wipe out the insurgency, left-wing extremism, and terrorism from the North-Eastern Part of India in the next five years.
Encouraged personnel to identify solutions for challenges, and to be more effective urged them to change their approach and look for new ways to counter the challenges.
Taking special initiatives to tackle interlinked challenges of cross-border infiltration, human and weapons trafficking, hawala transactions, cyber threats, drug trafficking and fake Indian currency notes(FICN).
Emphasized the importance of coordination between intelligence and security agencies of the country.
Calling the Intelligence Bureau as the 'brain' of the national security network, the Home Minister acknowledged the expertise and hard work of the Intelligent Bureau personnel.
Topics: Amit Shah • Intelligence Bureau • Intelligence Bureau Centenary Endowment Lecture • New Delhi • North East India • Union Home Minister of India
Latest E-Books