$536 Million to be paid by Japan to Companies for Leaving China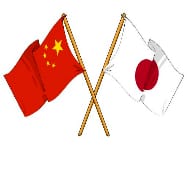 The government of Japan will start paying its companies to move out of China back home or to other countries of Southeast Asia as part of a new program to secure supply chains to the country and also to reduce the excessive dependence on manufacturing activities in China.
Around 57 companies including privately-held facemask-maker Iris Ohyama Inc. and Sharp Corp. will receive a total of 57.4 billion yen ($536 million) in subsidies from the government so that they move out of China and shift their manufacturing base to some other location. Some other firms have also been identified and approached by Japan to shift their manufacturing units to Vietnam, Thailand, Myanmar and other Southeast Asian Nations but the compensation amounts for these companies have not been disclosed.
Overall, the government may end up paying around 70 billion yen to the companies. The government had already earmarked funds in April to decrease its dependence on the Chinese supply chains by helping companies shift factories back home or to other nations.
Background
Along with the growing tension between US and China, the discussions are also moving around how to decouple economies and firms from China. The move will have both the effects of strangulating Chinese economy and reducing dependence on China for all kinds of manufacturing needs. Taiwan had formulated a similar policy as Japan in 2019 to bring back investment to home. However, apart from Japan, no other country has acted in a concrete manner to encourage this kind of shift.
Though China is the biggest trading partner of Japan under normal circumstances and Japanese companies have massive investments there, the coronavirus pandemic has tarnished the image of China in Japan and also the economic ties have taken a hit. The present decision has come in such a backdrop and points towards a paradigm shift in the Japanese policy towards China.
Month: Current Affairs - July, 2020
Category: International Current Affairs
Topics: China • China-Japan • Japan • Supply chain
Latest E-Books