26 November: National Milk Day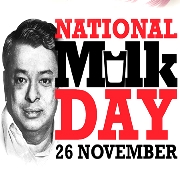 The National Milk Day (NMD) was observed on 26 November is to mark birth anniversary Dr.Verghese Kurien, father of the White Revolution in India.
This year it was 95th birth anniversary of Dr.Verghese Kurien and third edition of observance of the day since it was established in 2014.
To mark this event, all dairy cooperatives across the country had conducted a mega activation in all markets across the country.
In addition, the Gujarat Cooperative Milk Marketing Federation (GCMMF), which markets the Amul brand of milk and dairy products printed 150 million milk pouches with the National Milk Day logo featuring Dr. Kurien's picture with the National Milk Day logo on it.
Background
The idea of observing National Milk Day was first mooted by Indian Dairy Association (IDA) in 2014 on the lines of World Milk Day (observed every year on June 1) under the aegis of UN Food and Agriculture Organization (FAO). The first NMD was observed on 26 November 2014 by all Indian diary sector majors including National Dairy Development Board (NDDB), IDA along with around 22 state level milk federations.
About Dr.Verghese Kurien
Verghese Kurien was born on 26 November 1921 in Calicut (now Kozhikode in Kerala) in then Madras Presidency of British India. He had died on 9 September 2012.
He was a social entrepreneur who had started billion-litre idea-Operation Flood which was the world's largest agricultural development programme.
Operation had helped to transform India from a milk-deficit country into the world's largest milk producer.
He was pioneer in starting co-operatives movement in dairy sector. He had founded around 30 cooperative institutions of excellence (like AMUL, GCMMF, IRMA, NDDB) which are owned, managed by farmers and run by professionals.
He was founding chairman of the Gujarat Co-operative Milk Marketing Federation (GCMMF) and pioneer in establishment and success of the Amul brand of dairy products.
Under his chairmanship, Amul achieved key invention of milk powder processed from buffalo milk.
Awards and Honours: Ramon Magsaysay Award (1963), World Food Prize (1989), Padma Shri (1965), Padma Bhushan (1966), Padma Vibhushan (1999), Economic Times award for Corporate Excellence (2001) etc.
Month: Current Affairs - November, 2016
Topics: Amul • Days and Events • National • National Milk Day • Observances • Verghese Kurien • White Revolution
Latest E-Books