Common Yoga Protocol Training Programme by AYUSH Ministry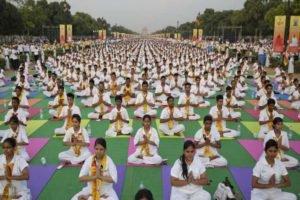 The Ministry of AYUSH (MoA) has formulated the Common Yoga Protocol (CYP) training programme recently.
Highlights
The programme was initiated in the backdrop of the ministry's effort to enhance the acceptance and adoption of the practice of Yoga in India as well as abroad.
The training programme is the soul of the upcoming international Yoga Day observance.
The protocol facilitates the harmony in the millions of people who join the observation of the International Day of Yoga (IDY).
About Common Yoga Protocol
The common yoga protocol was developed by a team of leading Yoga gurus and experts.
The protocol comprises of the safe practices to improve physical, emotional, mental, and spiritual health of the population.
This the most popular Yoga programmes around the globe which is widely performed every year on the occasion of the International Day of Yoga (IDY).
The protocol has been designed in a way so that everyone can easily adopt irrespective of their age and gender.
It can be learnt by a simple training sessions and online classes.
The Common Yoga Protocol is led by the Prime Minister Modi every year on the occasion of IDY.
It is organized by the Ministry of AYUSH (MoA) in collaboration with the Morarji Desai National Institute of Yoga (MDNIY).
It also organises the Yoga Appreciation Programme (YAP), with the aim of promoting and disseminating the knowledge and practice of Yoga among people.
Objective of Common Yoga Protocol
The Common Yoga Protocol is organised with the objective of:
Spreading knowledge and skill of Yoga among masses.
Increasing mass awareness regarding health benefits of Yoga.
Introducing basic well-being principles and practices to the common people.
Promoting positive health through Yoga.
Propagating Yoga for preventive practices for holistic health.
International Yoga Day
The day is observed on June 21 every year since 2015 after its inception in the UN General Assembly in year 2014.
Tags: AYUSH Ministry • Common Yoga Protocol Training Programme • International Yoga Day • United Nation General Assembly (UNGA) • Yoga Appreciation Programme (YAP)
Month: Current Affairs - February, 2021
Latest E-Books