Assam Floods and Landslides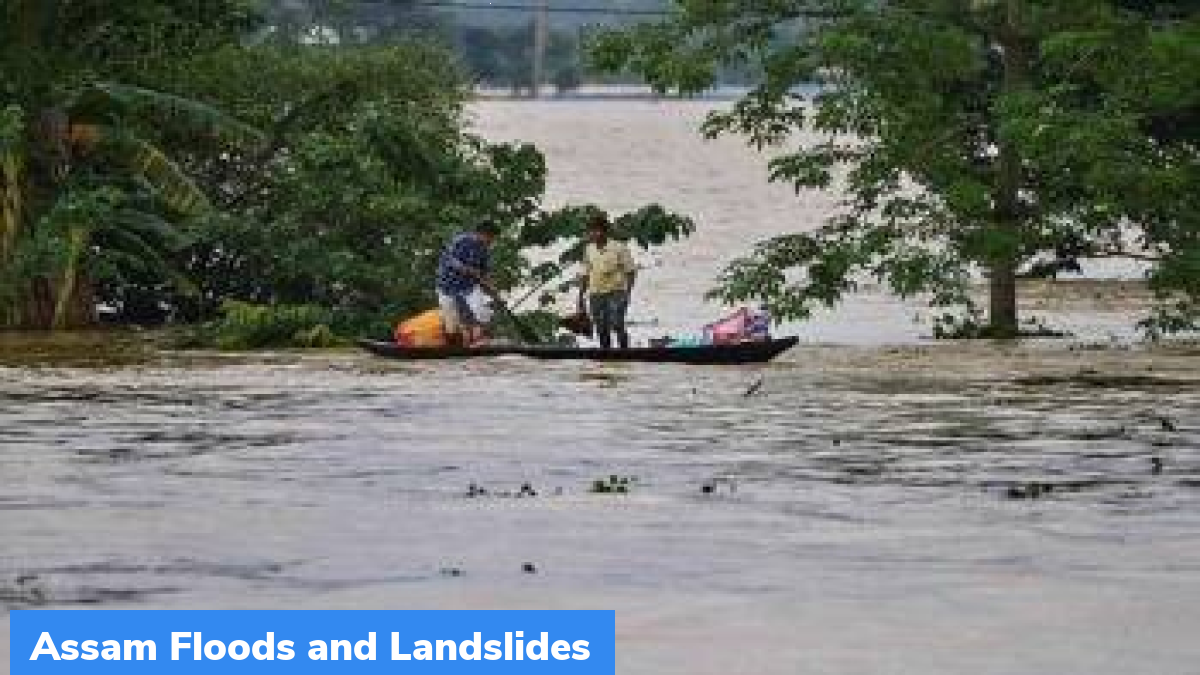 Assam has been experiencing unprecedented floods and landslides over the last one week. This has affected million people and left people dead too. In last 34 hours, 10 people were killed and 7 went missing.
What are the factors behind unprecedented floods?
Pre-monsoon rains-Average rainfall in Assam for March-May 2022 was 719 mm, against 434.5 mm last year for same period.
Assam has been experiencing more concentrated and heavy rainfall episodes because of climate change.
Undesirable, unplanned and unpragmatic structural intervention on fragile landscape of Assam hills are the causes of landslides of devastating nature.
Massive deforestation for expansion of roadways and railways and rampant riverbed mining has also led to landslide of such nature.
Why is Assam prone to floods?
Assam is prone to frequent floods, because-
Brahmaputra River is unstable and braided in the entire reach of Assam, because of high sedimentation and steep slopes.
Assam and some other parts of the north-eastern region are prone to frequent earthquakes, which in turn causes landslides. Frequent earthquakes and landslides send huge debris in the rivers, resulting into rise of river bed.
Assam also faces bank erosion around the Brahmaputra and Barak rivers. As per an estimate, nearly 8000 hectares land in Assam is lost to erosion. Due to bank erosion, width of the Brahmaputra River has increased up to 15 km.
Man-made cause of floods in Assam region includes, releasing of water from dams situated on hills.
Topography of the region is like bowl, making it susceptible to water logging.
What steps should be taken?
Government should study the river as well as impact of climate change.
Water flow information should be shared with public, in order to understand the river in better manner. This information is shared by China with India.
More accurate and decentralised rain forecasts should be made, which can help in preparedness.
Month: Current Affairs - June, 2022
Category: Environment Current Affairs • States Current Affairs