Amrit Mahotsav: to be organised at 75 locations for 75 weeks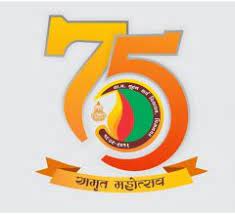 The Prime Minister of India, Narendra Modi, on March 10, 2021 have urged all the Members of Parliament (MPs) and the public representatives to take part in 'Amrit Mahotsav'.
About Amrit Mahotsav
The Amrit Mahotsav will start from March 12, 2021 to mark the 75 years of India's Independence from the British rule. It will start at the Sabarmati Ashram in Gujarat. This festival will be organised at the 75 locations for 75 weeks across the country.
Logo of Amrit Mahotsav
The MyGov recently launched a logo design contest for the Amrit Mahotsav so as to commemorate the monumental occasion. To participate in the contest, the artists were required to design a logo on the themes ranging from  Governance, Development, Technology, Reform, Progress and Policy over the years.
Who are eligible for the contest?
This logo contest was open only for the citizens of India. The entry for the contest was free and no qualifications have been prescribed by the government. The entry was closed on February 28, 2021.
How the logo was selected?
The entries received by February 28 will be evaluated by the Selection Committee which was constituted for this purpose. Committee will shortlist the entries and decide the winner if any entry is found suitable. These entries will be judged on the basis of originality, creativity, technical excellence, composition, simplicity, visual impact, artistic merit and how the theme is communicated. The committee will decide one winner, two runners-up regarding which the decision of the committee will be final. The winner will get the prize of Rs 1 lakh, while the two runners-up will get the price of Rs 50,000 and Rs 25,000 respectively.
Month: Current Affairs - March, 2021