16th Asia Media Summit concludes in Cambodia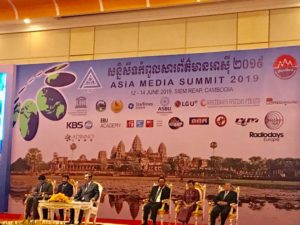 The Asia Media Summit 2019 was organised in Siem Reap province, Cambodia from 12 June to 14 June 2019 to deliberate on many issues pertaining to media & broadcasting industry. The 15th Asia Media Summit (AMS-2018) was hosted by India. This year was 16th edition of summit.
Key Highlights for Summit
The two-day summit was held under topic of Media Digitalization Focusing on Developing Markets. It called for regulation-making to fight against fake news and cyber-crimes.
Organized By: The summit AMS was organized by Cambodian Ministry of Information in collaboration with the Asia-Pacific Institute for Broadcasting Development (AIBD). More than 600 media representatives from 42 countries and regions participated in event.
Purpose: The participants focused the attention was on spread of disinformation/fake news and its impact on governments, media, private sector and society.
Concern: Cyber-crimes and fake news are threatening and posing severe risks to individual's right and security in region as well as around the globe.
Outcome:
All participants discussed numerous approaches for combating disinformation or fake news, which includes strengthening regulations and ethical standards, verification process of information, media literacy initiatives etc. Also measures such as transparency by government and Media literacy training to teachers will help in combating misinformation to some extent.
The summit and pre-summit workshops addressed the concerns raised by digital media, which requires relevant authorities to make regulations to deal with anti-cybercrimes, fake news, and training people to raise awareness and enhance media profession.
An information ministerial meeting held on the sidelines of the summit, agreed to launch Angkor Fake News Initiative, a year-long research project to find out appropriate measures to counter fake news.
All the broadcasters and other media stakeholders were requested to counter fake news by strengthening law enforcement, as well as ethics and professionalism.
Significance: The use of digital technology and Industrial Revolution 4.0 (4th Industrial revolution) has encouraged media digitalization in market to increase its potential and enhance close cooperation to share information on media technology evolution and fight against fake news and cyber-crimes.
About Asia Media Summit
It is one of the leading international broadcasting events that provides opportunity for broadcasters, media practitioners, industry leaders, researchers, academia, experts and media policy makers from all over the world to meet and discuss about developing media's quality and to cope up with challenges during the times of high technological revolution.
Month: Current Affairs - June, 2019