Page-2 of
Zoological Survey of India Current Affairs, GK & News
The International Conference on Status and Protection of Coral Reefs (STAPCOR 2018) was held at Bangaram Island, Lakshadweep with theme "Reef for Life" from October 22-24. It was organised by the Zoological Survey of India (ZSI) in co-ordination with the local administration. The Conference highlighted the importance of coral reefs and the need for its ..
Topics: Bangaram Atoll • Biodiversity • Coral • Coral reef • Countries • Fauna of India • Geography of Asia • Lakshadweep • Landforms • Maldives • Zoological Survey of India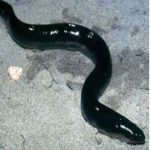 Scientists from Zoological Survey of India (ZSI) have discovered three new species of eel along northern Bay of Bengal coast. They are Gymnothorax pseudotile, Gymnothorax visakhaensis and Enchelycore propinqua. Key Facts Gymnothorax pseudotile: It was discovered at the Digha coast of the Bay of Bengal. It has dark brown and white dots on the dorsal ..
Month: Current Affairs - February, 2018
Topics: Bay of Bengal • Enchelycore propinqua • Environment • Gymnothorax pseudotile • Gymnothorax visakhaensis • New Eel spieces • Science and Technology • Zoological Survey of India
Zoological Survey of India (ZSI) has published first of its kind compendium titled Fauna of Sundarban Biosphere Reserve in Indian Sundarbans. It has consolidated and updated information of faunal diversity of Sundarbans. Indian segment of Sundarbans is part of UNESCO World Heritage site. It forms part of Ganga-Brahmaputra delta across 9,630 sq. km, distributed among ..
Month: Current Affairs - September, 2017
Topics: Biosphere Reserve • Environment • Sundarban • Zoological Survey of India