United Nations Development Group Current Affairs, GK & News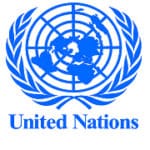 The International Volunteer Day for Economic and Social Development is observed every year on the 5th of December. The day was designated by the United Nations General Assembly in 1985. The UNGA adopted the Resolution A/RES/40/212 on December 17th, 1985. The international day is observed to promote volunteering culture and the importance of volunteering in ..
Topics: Human activities • Humans • International Volunteer Day • Sustainable Development • Sustainable Development Goals • UNESCO • United Nations Development Group • Volunteering
The Odisha government has recently signed a Letter of Understanding (LoU) with United Nations Children's Fund (UNICEF) to provide 24-hour safe drinking water to every household in the state under the project 'Drink From Tap Mission'. The project has been launched on a pilot basis for about 1.2 lakh people involving 22,000 families in pockets ..
Topics: Drinking water • Khordha district • Organizations • Puri • States and union territories of India • Subdivisions of India • UNICEF • United Nations Development Group • United Nations Economic and Social Council
The World Food Day (WFD)  is observed every year on 16th of October  to mark the foundation of Food and Agriculture Organisation (FAO) of the United Nations in 1945. It is also a day of action dedicated to tackling global hunger. The 2019 theme is "Our Actions Are Our Future, Healthy Diets for A #ZeroHunger ..
Topics: Food and Agriculture Organization • Food and drink • Food politics • Hunger • Sustainable diet • United Nations Development Group • World Food Day
The mascot 'Tikki Mausi' has been launched by the Odisha government in collaboration with UNICEF to spread awareness about child and woman's nutrition. The mascot has been named as 'Tikki Mausi' in reference to the second mother of a child. The mascot resembles a typical friendly neighbourhood aunty that has words of advice for everyone ..
Topics: Organizations • UNICEF • United Nations Development Group • United Nations Economic and Social Council
Bulgarian economist Kristalina Georgieva has been named as the new Managing Director (MD) of the International Monetary Fund (IMF). She is the first person from an emerging market economy to lead the IMF. Georgieva will succeed Christine Lagarde for a five-year term from October 2019.
Topics: Christine Lagarde • Georgieva • International Monetary Fund • Jeroen Dijsselbloem • Kristalina Georgieva • Nadia Calviño • Organizations • Politicians • United Nations • United Nations Development Group • United Nations Economic and Social Council