Thailand
INS Sagardhwani, Oceanographic research vessel of Defence Research and Development Organisation (DRDO) has embarked on a strategic-cum scientific oceanic expedition from Kochi to enhance collaboration with eight Indian Ocean Rim (IOR) nations. The mission is being implemented by the Defence Research and Development Organisation's (DRDO) Kochi-based Naval Physical and Oceanographic Laboratory (NPOL). INS Sagardhwani has already ..
ZIKA has made its imprints in Singapore with more than 400 cases being reported in the city and about 350 reported from Thailand out of which two of microcephaly stand confirmed.  Out of the 70 countries across the world where mosquito-borne virus has been detected 19 belong to Asia-Pacific region. The Philippines, Malaysia, Vietnam and ..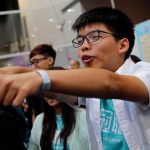 Joshua Wong, a 19-year old student activist who was the face of the pro-democracy protest movement in China was detained upon his arrival at Thailand airport. Joshua Wong was invited to two universities in Bangkok at the anniversary commemorating the massacre of Thai student activists in 1976. He was to speak about the lessons to ..
Advertisement