Page-2 of
Submarine Current Affairs, GK & News
The Ministry of Defence has been on the news for its failure to dispose 20 nuclear submarines. The National Audit Office report says that 9 of the 20 vessels still have nuclear fuel in it. It also added in its report that the Ministry of Defence has not taken any measures to dismantle the submarines ..
Topics: Ballistic missile submarines • Nuclear power in Scotland • Nuclear submarine • Nuclear-powered submarines • Royal Navy Submarine Service • Ships • Submarine • Trident
On December 12, the Indian Navy inducted its first non-tethered Deep Submergence Rescue Vehicle (DSRV) System at the Naval Dockyard in Mumbai. The DSRV is used to rescue crew members from submarines stranded under water in the high seas. The DSRV can be operated at a depth of 650m & can hold around 15 people. ..
Topics: Deep-submergence rescue vehicle • INS Sindhughosh • Lifeboats • Mystic-class deep-submergence rescue vehicle • Ships • Submarine • Submarines • Type 7103 DSRV
Air Independent Propulsion (AIP) is a technology that allows Diesel Submarines to operate without having to surface or use a snorkel to access atmospheric oxygen .Navies who wish to operate non-nuclear subs with long-range and large weapons payload are now option for large diesel submarines equipped with AIP, which provide the closest alternative to nuclear ..
Topics: Air-independent propulsion • Attack-class submarine • Marine propulsion • Nuclear submarine • Ships • Submarine
India's first indigenously built Scorpene submarine " INS Kalvari" has been delivered to the Indian Navy at the Mazagon Dock Ltd shipyard and will soon be commissioned. Kalvari is named after the dreaded Tiger Shark, a deadly deep sea predator of the Indian Ocean. It can carry 18 torpedoes and travel 1,020km underwater. The 66-metre ..
Topics: Anti-submarine warfare • Anti-submarine weapon • Anti-surface warfare • In India • INS Kalvari • Naval warfare • Projectiles • Scorpène-class submarine • Ships • Submarine • Submarines • Warships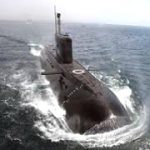 Indian Navy successfully test-fired an anti-ship missile for the first time from an indigenously built INS Kalvari submarine. During a test firing in the Arabian Sea, the missile successfully hit a surface target at extended ranges. This launch is considered as significant milestone of Indian Navy in enhancing its "sub-surface" warfare prowess. Key Facts INS ..
Month: Current Affairs - March, 2017
Topics: Defence • Indian Navy • INS Kalvari • missile technology • National • Submarine