Planning Commission: Current Affairs, GK & News - 2020-2021
3rd Edition of Women Transforming India Awards to be Organized by NITI Aayog
Published: December 15, 2018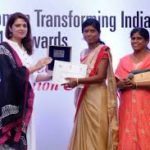 Third edition of Women Transforming India Awards to be organized by Government think- tank NITI Aayog on 16th December.  On this occasion NITI Aayog will also launch the upgraded portal of Women Entrepreneurship Platform. Vice President M Venkaiah Naidu will present the awards to the women. The theme for this year awards is – 'Women ..
Category: Awards, Persons & Places in News
Topics: Cooperative Federalism • Functions of NITI Aayog • Governing Council of NITI Aayog • NITI Aayog • Planning Commission • Women Entrepreneurship Platform
Rajiv Kumar to be new Vice-Chairman of NITI Aayog
Published: August 6, 2017
Noted economist Dr. Rajiv Kumar will be the new Vice-Chairman of NITI Aayog, which is a think-tank that replaced the Planning Commission. He will succeed Arvind Panagariya, who will leave the government think tank on August 31, 2017 and return to Columbia University. Currently, Rajiv Kumar is a senior fellow at the Centre for Policy ..
Topics: Arvind • Arvind Panagariya • Dr. Vinod Kumar Paul • India • Niti • NITI Aayog • Planning Commission • Rajiv Kumar • Think tank
Planning Commission: Working Style and Abolition
Published: December 12, 2015
From its establishment in 1950 till it was abolished recently, the Planning Commission stayed and stood tall amid all policy making institutions of the country for 65 years. On 15 August 2014, India's Prime Minister Narendra Modi declared to replace the Planning Commission by a new body. On January 1, 2015, the government by a ..
Topics: Jawaharlal Nehru • LPG • NITI Aayog • Niti Ayog • Planning Commission
India's Planning Landscape: From Centralized to Decentralized Planning
Published: December 11, 2015
Before the demise of planning commission, India followed a soviet model of five year plans and these plans were implemented regularly except few disruptions here and there. The key features of planning were as follows: Planning was comprehensive, focusing on economic as well as social parameters and was aimed at inclusive growth and regional balance. ..
Topics: Planning Commission
History of Planning in India
Published: December 11, 2015
First of all the idea of planned economy was crystallized in 1930s when our national leaders came under the influence of socialist philosophy. India's Five year plans were very much impressed by the rapid strides achieved by the USSR through five years plans. In 1934, Sir M. Visvesvaraya had published a book titled "Planned Economy ..
Topics: National Development Council • National Planning Committee • Planning Commission
Advertisement