Nuclear warfare Current Affairs, GK & News
On March 20, 2020, the United States successfully tested nuclear capable hypersonic missiles. The test challenges Russia's missile testing capabilities. Recently, Russia tested a hypersonic weapon in December 2019 and China has already showcased its DF-17 hypersonic glide vehicle. The glide vehicle flew at five times more than the speed of sound. Anti-Ballistic Missiles Treaty ..
Month: Current Affairs - March, 2020
Category: International Current Affairs
Topics: Anti Air Warfare Capability • Anti-ballistic missile • Arms Race • Ballistic missile • China-US • Hypersonic Missile • Missile Tests • Nuclear warfare • US-Russia
A recently published study outlined the immense effects that even a limited nuclear war between India and Pakistan would have on the world. Temperature Drop The study hypothesised that a nuclear war between the two South Asian neighbour states would send 5 million tonnes of soot into the stratosphere. This would spread across the world. ..
Topics: Famine • Food Production • India-Pakistan Relations • Nuclear States • Nuclear warfare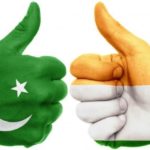 On January 1, 2020, India and Pakistan exchanged their nuclear installations under an agreement that prevents them from attacking each other's atomic facilities. The practice is being followed for 29 years for now. Highlights India and Pakistan exchanged the list of nuclear installations under the Agreement on Prohibition of attack against nuclear installations. The exchange ..
Month: Current Affairs - January, 2020
Category: Defence Current Affairs
Topics: Agreement on Prohibition of Attacks against Nuclear Installations and Facilities • India- Pakistan • Military exercise • Nuclear installations • Nuclear War • Nuclear warfare • Operation Brasstacks
The Defence Minister Rajnath Singh's statement about India's 'No First Use' of nuclear arms pledge has raised the questions on whether India is revisiting its No First Use Policy on Nuclear Weapons. What did the Defence Minister Say? A tweet by the Defence Minister stated that "Pokhran is the area which witnessed Atalji's firm resolve to make ..
Topics: Law by country • No first use • Nuclear arms race • Nuclear Doctrine of India • Nuclear proliferation • Nuclear strategies • Nuclear utilization target selection • Nuclear warfare • Nuclear weapon • Pakistan and weapons of mass destruction • Politics by country • Pre-emptive nuclear strike • Treaty on the Non-Proliferation of Nuclear Weapons
The United States of America has officially withdrawn from the Intermediate-Range Nuclear Forces (INF) Treaty. Even Russia has announced that it would withdraw from the treaty. INF Treaty The features of the Intermediate-Range Nuclear Forces (INF) Treaty signed by President Ronald Reagan and Soviet General Secretary Mikhail Gorbachev in December 1987 were: The treaty prohibited ..
Topics: Ballistic missile • Deterrence theory • INF Treaty • Intermediate-Range Nuclear Forces Treaty • Law by country • Missile defense • Nuclear strategies • Nuclear warfare • Nuclear weapons • Perestroika • Politics by country • Russia and INF Treaty • START I