Nationalism Current Affairs, GK & News
In India, the 5th edition of National Handloom Day (NHD) has celebrated on 7th August 2019 to honour the handloom weavers in the country and also highlight India's handloom industry. The day seeks to focus on the contribution of handloom to the socio economic development of India and also to increase the income of weavers. ..
Topics: Bhubaneswar • Economic nationalism • Gandhism • Indian independence movement • Nationalism • Political ideologies • Rural community development • Swadeshi Movement
Facebook Inc has recently banned praise, support and representation of white nationalism and separatism. This move has drawn a qualified approval from New Zealand where a massacre of 50 people in mosques was live streamed in March 2019. The social media giant also pledged to improve its ability to identify and block material from terrorist ..
Topics: Alt-right • Nationalism • Political ideologies • Politics • Race and society • Racism • Separatism • White ethnostate • White nationalism • White supremacy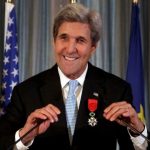 US Secretary of State John Kerry has been conferred the greatest French honour 'Legion d' Honneur'. He was addressed by his French counterpart as "most French of American officials" i.e. Francophone or Francophile. French Foreign Minister Jean-Marc Ayrault also called him "tireless champion of peace". It was Kerry's French heritage and fondness of France which ..
Topics: Ayrault • Forbes family • Francophile • Jean-Marc Ayrault • John Kerry • Massachusetts • Nationalism • Skull and Bones Society • States of the United States