Page-2 of
Malabar Current Affairs, GK & News
Indian Navy's 2 warships, INS Kolkata and INS Shakti had gone to Qingdao in China to participate in the International Fleet Review, which is an international maritime parade organised off the coast of China. It is celebrated to commemorate the 70th anniversary of the founding of the Chinese Navy. The 2 warships, INS Kolkata and ..
Topics: Indian Navy • INS Jyoti • INS Kolkata • INS Shakti • Malabar • Qingdao • Ships • Warships
Indian and the US navies have conducted joint submarine hunting exercise near Diego garcia in the Indian Ocean in which India's P8I Neptune Aircraft and US P-8A Poseidon maritime patrol aircraft along with the USS Spruance have participated. The exercise was focused on anti-submarine training, information sharing and coordination between maritime patrol aircraft and surface ..
Topics: Boeing P-8 Poseidon • Exercise RIMPAC • Malabar • Ships • Submarine • USS Spruance
The bilateral naval exercise 'Konkan 18' has started between the navies of India and the UK at the Goa coast from November 28. The exercise will provide a platform for the two navies to periodically exercise at sea and in harbour, so as to build interoperability and share best practices. The harbour phase is scheduled ..
Topics: Indian Navy • INS Kolkata • INS Shakti • Malabar • Military • Navy • Visit, board, search, and seizure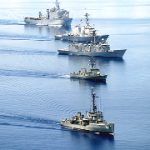 The naval exercise Konkan 18 between India and United Kingdom will be conducted from November 28 to December 6, 2018 off Goa with units participating from both navies. The harbour phase is scheduled from November 28 to November 30 2018 followed by the sea phase from 2-6 December, 2018. Key Facts For this edition of ..
Month: Current Affairs - November, 2018
Category: Defence Current Affairs
Topics: Anti-submarine warfare • Defence • Goa • India-UK • Indian Navy • INDRA • Maharashtra • Malabar • Military education and training • Military history • Mumbai • Naval Exercises
The first-ever bilateral naval exercise 'Samudra Shakti 2018' has started between Indian & Indonesian Navy at the port of Surabaya in Indonesia from November 12 to 18. The aim of the exercise is to strengthen bilateral relations, expand maritime co-operation, enhance interoperability and exchange best practices. From Indian side, INS Rana of the Eastern Fleet ..
Topics: Eastern Naval Command • Indonesian Navy • INS Rana • INS Shakti • Malabar • Military • Military operations • Surabaya • Visakhapatnam