Page-3 of
Kathmandu Current Affairs, GK & News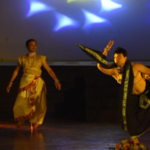 A month-long Festival of India in Nepal is being held at Nepal. Nepal's Minister for Culture, Tourism and Civil Aviation Rabindra Adhikari was the chief guest of the opening ceremony. Festival of India in Nepal The Festival of India in Nepal is organised by the Swami Vivekananda Cultural Center at the Indian embassy in Kathmandu with support from India's Ministry of culture. ..
Month: Current Affairs - February, 2019
Topics: Festival of India in Nepal • India • India-Nepal • Indian Council for Cultural Relations (ICCR) • Indian Embassy • Kathmandu • Mahatma Gandhiji • Ministry of Culture • Ministry of External Affairs • Nepal • Sanskrit • Swami Vivekananda Cultural Center
In Nepal, a month-long 'Festival of India' has started in Kathmandu to familiarize the new generation of the country about the similarities between the two countries. The festival, organised by the Indian Embassy and Swami Vivekananda Cultural Centre, is being held in Kathmandu and other major cities of Nepal from February 19th to March 21st.
Topics: Culture of Kathmandu • Foreign relations of Nepal • Geography of Asia • Kathmandu • Kathmandu District • Neo-Vedanta • Nepal • Newar • Ramakrishna Mission • religion • Spirituality • Swami Vivekananda
The 12th World Congress on Mountain Medicine 2018 has started in Kathmandu, the capital of Nepal on November 21. The theme of 4 day congress is "Mountain Medicine in the Heart of the Himalayas". The biennial event mainly focuses on science and research aspects of high altitude medicine. It will also include practical workshops related ..
Topics: Continents • Countries • Geography of Asia • Kathmandu • Kathmandu District • Nepal • Newar
The festival of Fulpati has recently celebrated with traditional gaiety and religious fervour in various parts of Nepal. Fulpati is observed on the 7th day of Dashain festival. In Nepali, "Phool" means flower and "Pati" means leaves and plants. There is a tradition in Nepal to bring nine types of Fulpati into the home on ..
Topics: Countries • Culture of Sikkim • Dashain • Festivals • Geography of Asia • Kathmandu • Navaratri • Nepal • Nepalese culture • Newar
In Nepal, the famous Indra Jatra festival 2018 is being celebrated in Kathmandu with gaiety and religious fervor. The 8-day long annual festival is observed to worship Indra, the lord of rain and good harvest. It also marks end of monsoon and beginning of harvest season and festivity. The chariot procession and mask dances are ..
Topics: Indrachok, Kathmandu • Jatra • Kathmandu • Kathmandu Durbar Square • Kumari • Madhyapur Thimi • Newar • religion • Religion in Nepal • South Asia • Yenya