Judicial Activism Current Affairs, GK & News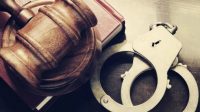 The NITI Aayog has ordered the Jaipur-based research organisation Consumer Unity and Trust Society (CUTS) International to study the "economic impact" of judgments delivered by Supreme Court (SC), high courts (HCs), and quasi-judicial bodies like the National Green Tribunal (NGT). It has also asked to study the "judicial activism" of such courts and tribunals. Highlights ..
Month: Current Affairs - February, 2021
Category: Legal & Constitution Current Affairs
Topics: Economic impact of Judicial Decisions • Judicial Activism • Judicial activism in India • Niti Ayog
Indian Judicial System is haunted with delays. The Ease of Doing Business Report of the World Bank for 2018 and 2019 shows that the time taken to decide a case has remained static at 1,445 days. These inordinate delays are hampering socio-economic development of the country. Forward and Backward Effects of Judicial Delay The government ..
Topics: Current Affairs – June, 2017 • E-Courts Project in the Judgeship of Rayagada • Judicial Activism • Judicial Allocation • Judiciary of Austria • Judiciary of India • Judiciary of Russia • Justice Delayed • Justice Delivery • Supreme Court of India • Supreme Court of the United States
It is often criticised that the Indian Supreme Court and High Courts have not been observing the judicial restraint and is encroaching on to the domain of the other two organs of the state, the legislature and the executive. Instances of Encroachment In the case of State of Tamilnadu v K. Balu, the Supreme Court banned ..
Topics: executive • Judicial Activism • Judicial Legislation • Legislature • Right to Privacy • Separation of powers

Former Chief Justice of India Prafullachandra Natwarlal Bhagwati who is considered as a pioneer of Judicial Activism has passed away. Justice Bhagwati was 95 years old. Justice Bhagwati introduced the concepts of Public Interest Litigation (PIL) and absolute liability to the Indian judicial system. He made the famous ruling that there was no need for a person ..
Month: Current Affairs - June, 2017
Topics: Judicial Activism • Obituary • Persons in News
Chief Justice of India R.M. Lodha has voiced his concerns about the growing attempts by various stakeholders to interfere and encroach upon judicial independence. He asserted that in times where Indian executive and legislature has lost its sheen due to humongous number of scams and wrongdoings, judiciary plays a very important part in maintaining the ..
Month: Current Affairs - September, 2014
Topics: CJI • Current Affairs - 2017 • India • Judicial Activism • Judicial independence