Indian religions Current Affairs, GK & News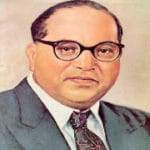 On December 6th 2019, the country observed the 64th Mahaparinirvan Diwas. The day marks the death anniversary of Dr. B R Ambedkar, who passed away in 1956. Ambedkar is considered as the 'Father of the Indian Constitution' or the 'Chief Architect of the Constitution' in recognition of his role in framing the Indian Constitution. He ..
Topics: B. R. Ambedkar • Buddhism • Chaitya Bhoomi • Dadar • Gautama Buddha • Indian religions • Mahaparinibbana Sutta • Parinirvana • religion
In a unique gesture to mark 550th Prakash Purb of Sri Guru Nanak Dev ji, National carrier Air India has depicted Sikh religious symbol 'Ik Onkar' on one of its Boeing 787 Dreamliner aircraft . The aircraft will fly on October 31 from Amritsar to London. Ek Onkar, which means "God is One", is the ..
Topics: God • Gurdwara • Ik Onkar • Indian religions • Onkar • religion • Shabda • Sikh practices • Sikhism • Sikhs • Singular God • Theism
To celebrate the 550th birth anniversary of the founder of Sikhism Guru Nanak Dev, India and Pakistan have recently signed the landmark agreement to operationalise the historic Kartarpur Sahib Corridor at Zero Point, just about 4 km from the International Boundary.  It will connect the Dera Baba Nanak shrine in India's Punjab with the Gurdwara ..
Topics: Gurdwara • Gurdwara Darbar Sahib Kartarpur • Gurdwara Janam Asthan • Guru Nanak • Guru Nanak Dev • Indian religions • Kartarpur, Pakistan • Punjab • religion • Shri Kartarpur Sahib Corridor • Sikh practices • Sikhism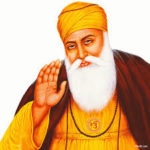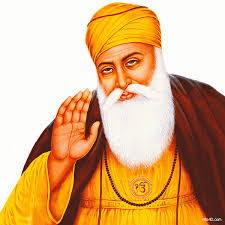 To commemorate the 550th birth anniversary of Guru Nanak Dev, United Nations Educational, Scientific and Cultural Organization (UNESCO) has decided to translate and publish an anthology of his writings into major languages of the world. This information was given by Ministry of Culture via a tweet. 550th Birth Anniversary of Guru Nanak Year 2019 marks ..
Topics: Guru Angad • Guru Granth Sahib • Guru Nanak • Guru Nanak Dev • Indian religions • Kartarpur Corridor • Nankana Sahib • Punjab • Religion • Sikhism • South Asia • Sultanpur Lodhi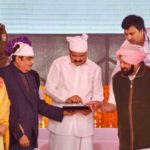 Vice President M Venkaiah Naidu laid foundation stone for construction of Kartarpur Sahib corridor on Indian side at Mann village in Gurdaspur district, Punjab. The corridor will provide visa free passage to Indian Sikh pilgrims to visit holy site of Gurudwara Darbar Sahib at Kartarpur in Pakistan. Gurudwara Darbar Sahib It is 16th century Gurdwara ..
Month: Current Affairs - November, 2018
Category: Places in News Current Affairs
Topics: Dera Baba Nanak • Gurdaspur • Gurdwara • Gurdwara Darbar Sahib Kartarpur • Guru Nanak • Guru Nanak Dev • Gurudwara Darbar Sahib • India-Paksitan • Indian religions • Kartarpur Corridor • Kartarpur Sahib Corridor • Kartarpur, Pakistan • National • Pakistan • Punjab • religion • Sikhism