Environmental protection: Current Affairs, GK & News - 2020-2021
Supreme Court: African Cheetah permitted to be introduced in India
Published: January 29, 2020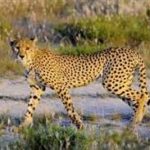 On January 28, 2020, Supreme Court ruled that African Cheetah shall be permitted to be introduced in India. The cat is being introduced on experimental basis. Highlights The Apex Court had put the move on hold 10 years back. It was proposed by the then Environment Minister Jairam Ramesh. The proposal was to introduce foreign ..
Month: Current Affairs - January, 2020
Category: Environment Current Affairs
Topics: African Cheetah • Conservation • Ecosystem • Environmental protection • IUCN • Supreme court
India's first underwater Metro: To begin in March 2022 in Kolkata
Published: January 28, 2020
The first underwater Metro is being constructed in Hooghly river. The project is awaiting clearance of 2.8 million USD from the Indian Railways. Highlights The Hooghly Metro is one of the oldest Metro in the country. It was started in 1984. The new under water tunnel will carry 20% of city's population and will cross ..
Month: Current Affairs - January, 2020
Category: Environment Current Affairs
Topics: Environmental protection • infrastructure • Infrastructure Development • Kolkata • river Hooghly • UNEP
Species Protection in India
Published: August 9, 2019
India is home to diverse species of both flora and fauna which are found all across the nation. While the Indian Government is concerned about the protection of the biodiversity of India, a few species are under threat. For the protection of such species, the Indian government has instituted various norms for the protection. To ..
Topics: CITES • Ecology • Endangered species • Environmental Concerns • Environmental protection
London becomes first city to implement 24×7 pollution charge zone
Published: April 9, 2019
London became the first city in the world to implement a Ultra Low Emission Zone for 24×7 hours a week, inside which vehicles will have to meet tough emissions standards or get charged. This zone aims to reduce toxic air pollution and protect public health. Motorists who drive into the zone in a vehicle that ..
Topics: Atmosphere of Earth • Electronic toll collection • Emission standards • Environmental protection • London congestion charge • London low emission zone • Low-emission zone • Motoring taxation in the United Kingdom • Natural environment • Pollution • Transportation planning
13th edition of Earth Hour 2019
Published: April 1, 2019
The 13th edition of Earth Hour 2019 was observed on March 30 with theme "#Connect2Earth" to encourage people across the world to turn off non-essential electric lights for one hour from 8:30 to 9:30 p.m. It calls for greater awareness and more sparing use of resources, especially fossil fuels that produce carbon gases and lead ..
Topics: Climate forcing agents • Earth Hour • Energy conservation • Environmental protection • Global warming • Greenhouse gas • Natural environment • Nature • Sustainability • World Wide Fund for Nature
Advertisement