Page-3 of
Cultural heritage Current Affairs, GK & News
The Rajasthan government has decided to hold convention on preserving heritage properties & promoting heritage tourism in Bharatpur on September 13-14, 2018. Organised by the Indian Heritage Hotels Association (IHHA), the convention on 'Revitalising India as a Heritage Destination' will witness national and international experts speak on preservation of heritage buildings, museums and promoting lesser-known ..
Topics: Cultural heritage • Cultural tourism • Heritage tourism • Museology
The International Council on Monuments and Sites (ICOMOS) has launched a Kerala Heritage Rescue Initiative to assess damage to rich cultural and built heritage in flood-devastated Kerala. The initiative aims to set up a platform for emergency response to the cultural heritage damaged by the floods in Kerala. It has also set up a Facebook ..
Topics: Australia ICOMOS • Conservation and restoration • Cultural heritage • Culture • Heritage • Historic preservation • Humanities • International Council on Monuments and Sites • International cultural organizations • Museology
The World Heritage Committee selects the sites to be listed as UNESCO World Heritage Sites, including the World Heritage List and the List of World Heritage in Danger, monitors the state of conservation of the World Heritage properties, defines the use of the World Heritage Fund and allocates financial assistance upon requests from States Parties. It is composed of ..
Topics: African World Heritage Day • Cultural heritage • Heritage • International cultural organizations • Law by country • National heritage site • Operational Guidelines for the Implementation of the World Heritage Convention • Politics by country • UNESCO • World Heritage Committee • World Heritage site
The Union Cabinet chaired by Prime Minister Narendra Modi has recently informed that India and Canada have mutually agreed to jointly issue a set of two Commemorative Postage Stamps on the theme Diwali. The joint stamps will be released on September 21, 2017, as per MoU signed between the postal departments of the two countries. ..
Topics: Commemorative stamp • Cultural heritage • Culture • Museology • Postage stamp • Stamp collecting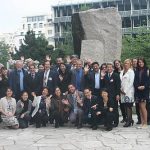 UNESCO has inscribed the ancient Indian practice of Yoga in the representative list of Intangible Cultural Heritage of Humanity. The list is comprised of only those elements which help express it's diversity and also create awareness of its significance.  This is a significant achievement as it will be highly instrumental in helping India to play ..
Topics: Chhau dance • Conservation and restoration • Cultural heritage • Intangible cultural heritage • Jandiala Guru • Law by country • Manipuri Sankirtana • Politics by country • Ruchira Kamboj • Traditional knowledge • Traditions • UNESCO Intangible Cultural Heritage Lists