Cinema of India Current Affairs, GK & News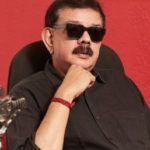 Veteran Indian actor Waheeda Rehman was recently conferred with the prestigious Kishore Kumar Samman Award for the year 2018. The award was instituted by the Madhya Pradesh government. Famous director Priyadarshan was conferred with the Kishore Kumar Samman for the year 2019, on the death anniversary of the legendary actor Kishore Kumar, October 13, 2019. As Waheeda ..
Topics: Cinema of India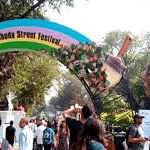 The famous arts festival called 'Kala Ghoda Arts Festival' is celebrated annually in the city of Mumbai. The 21st edition of the street festival has recently commenced. This year, the nine-day-long festival has a variety of events in 12 sections, related to arts, music, cinema, literature, theatre and heritage walks. This year's edition of KGAF ..
Topics: Arts • Cinema of India • Cultural heritage of India • Festivals in India • Indian Literature • Music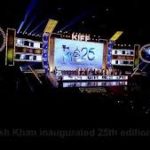 Manipur films, some of which have carved a niche in the national and international film world by bagging prestigious awards such as Grand Prix and Golden Conch blacked out from the golden jubilee of International Film Festival of India scheduled to be held in Goa after November 20 to 28. Syam Sharma, director of Imagi Ningthem (My ..
Topics: Aribam Syam Sharma • Cinema of India • Cinema of Manipur • Conch • Culture of Manipur • Films • Imagi Ningthem • Indian culture • Indian films
Russia will be the partner country at the Golden Jubilee of International Film Festival of India (IFFI-2019) in Goa. It will be held from November 20 to 28 with close to 250 films from various countries being screened. The fest will honour superstar Rajinikanth with a special 'Icon of Golden Jubilee' award presented in recognition ..
Topics: Actors • Cinema of India • International Film Festival of India • Rajinikanth • States and union territories of India
The 3rd edition of the Guwahati International Film Festival (GIFF) is organised by Assam government-owned Jyoti Chitraban in association with the Dr. Bhupen Hazarika Regional Government Film and Television Institute. Iran is the focus country & renowned Polish filmmaker Krzysztof Zanussi is the Chief Guest in this week-long festival. 100 films from 65 countries will ..
Topics: Assam • Bhupen Hazarika • Cinema of Assam • Cinema of India • Dr. Bhupen Hazarika Regional Government Film and Television Institute • Gauhati Cine Club • Guwahati • Guwahati International Film Festival • Hazarika • Krzysztof Zanussi • States and union territories of India • Zanussi