Agroforestry Current Affairs, GK & News
On June 11, the Indian American soil scientist Dr Rattan Lal has won the World Food Prize for mainstreaming and developing soil centric approach in order to increase food production. Highlights Dr Lal's strategy of restoring soil health has been adopted by three United Nations Climate Change Conferences. Techniques of Dr Lal Dr Lal has ..
Category: Awards, Persons & Places in News
Topics: Agriculture • Agroforestry • Carbon Sequestration • farming • Livestock Rearing • UN Climate Change Conference • United Nations • World Food Prize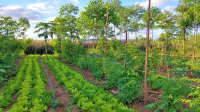 The College of Forestry of Kerala Agriculture University recently hosted a 21 days Winter School on 'Agroforestry for Climate Change Mitigation, Biodiversity Conservation and Resilience in Agro-ecological Systems: Current Trends and Future Strategies'. This is an ICAR sponsored program. The experts at the event recommended the adoption of agroforestry that is resilient to climate change ..
Topics: Agroforestry • Bamboo • Dendrocalamus • Dendrocalamus asper • Plants
In Relay cropping second crop is planted even before the first crop is harvested. Thus, both crops share some part of the season. In India, Rice –cauliflower – onion-summer gourd is one example of relay cropping. Advantages: Less risk since yields do not depend on one crop alone. Better distribution of labor. Some diseases and ..
Topics: Agriculture • Agroecology • Agroforestry • Agronomy • Applied sciences • Crop rotation • Crops • Intercropping • Legume • Multiple cropping • Permaculture • Sustainable agriculture