WHO lists Moderna's mRNA vaccine for emergency use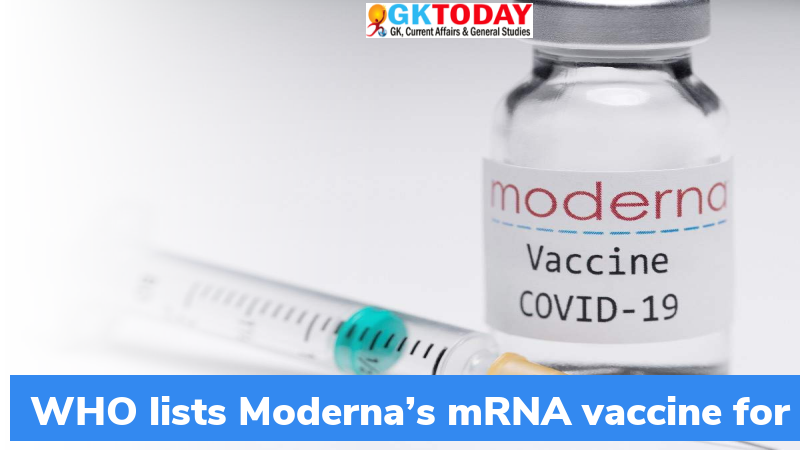 The World Health Organisation recently listed mRNA vaccine of Moderna for Emergency Use. This makes it the fifth vaccine to receive emergency use validation from WHO.
Why is Emergency Use Approval important?
The Emergency Use Listing of vaccines of the WHO assesses the safety, quality and efficacy of vaccines. It is a prerequisite for COVAX facility vaccine supply.
The vaccines that are provided with Emergency Use Approval are reviewed by SAGE. SAGE is Strategic Advisory Group of Experts on Immunisation. The Moderna vaccine was recommended by SAGE in January 2021. The USFDA (United State Food and Drug Administration) cleared the vaccine for Emergency Use in December 2020. The European Medicines Agencies granted marketing authorisation for the vaccine throughout European Union in January 2021. Japan is to approve the Emergency use of the vaccine in May 2021.
Current Scenario in India
The Government of India recently (on April 13, 2021) issued an order according to which the COVID-19 vaccines approved elsewhere in the world will be fast tracked in India. This is applicable mainly to those approved by USFDA, Japan's Medical and Devices Agency and UK Medicines and Healthcare products Regulatory Agency.
The first hundred recipients of the fast tracked COVID-19 vaccines will be monitored for side effects for seven days before they are opened up for public.
Moderna Vaccine
mRNA-1273 is the technical name for the Moderna vaccine.
The mRNA-1273 induced antibody responses against COVID-19 in Non-Human Primates. The psychological and physiological similarities between humans and non-human primates are similar.
Primates are animals that adapted to living in trees of tropical forests 85 million years ago.
Month: Current Affairs - April, 2021 • Current Affairs - May, 2021
Category: International Current Affairs
Topics: COVAX • Emergency Use Authorisation • Moderna • mRNA • World Health Organisation (WHO)
Latest E-Books