What is 'Motion of Thanks'?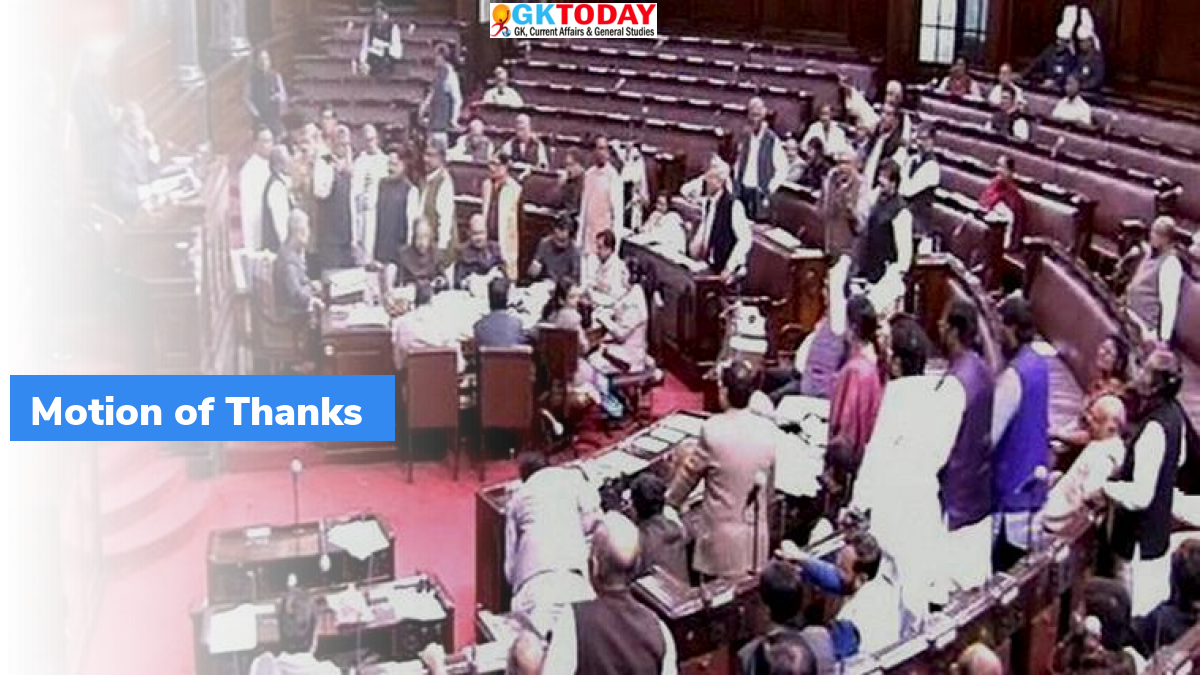 On February 2, 2022, congress leader Rahul Gandhi will be the first speaker in Lok Sabha to discuss on motion of thanks to the President's address at the start of Parliament's ongoing Budget Session.
Key Points
The motion was moved in the Lower House by BJP's Harish Dwivedi. Motion will be moved in Rajya Sabha by BJP's Geeta alias Chandraprabha.
Debate on motion of thanks will be held for 12 hours while Union Budget 2022 will be debated for 11 hours in Rajya Sabha.
Prime Minister Narendra Modi is expected to reply on February 8 while finance minister Nirmala Sitharaman will reply on February 11.
President Ram Nath Kovind listed achievements of government in his address to the joint sitting of both Houses. He listed steps to fight the covid pandemic and steps to aid farmers & women.
President's Address to joint session
Article 87 provides for special address by the President to the joint session in the Parliament. The President of India is mandated to address the both houses of Parliament together at the commencement of first session after each general election to House of the People as well as at the commencement of first session of each year. The President also inform Parliament of the causes of its summons. Such address by President is termed as "Special Address" and it is an annual feature.  No other business is transacted, prior to President's address.
Content of the President's Address
President's Address is the statement of policy of Government. It is drafted by the Government. The address comprises of a review of various activities and achievements of the Government during previous year. It also sets out the policies, programmes and projects which Government seeks to pursue with respect to important national and international issues.
Discussion on President's Address by Motion of Thanks
Address of the president, corresponds to 'speech from the Throne in Britain'. It is discussed in on a motion called "Motion of Thanks", in both the Houses of Parliament. It is available to the members of Parliament, for raising discussions & debates in a bid to examine and criticise government.  Usually, 3 days are allotted to discussion on Motion of Thanks.
Month: Current Affairs - February, 2022
Category: Legal & Constitution Current Affairs
Topics: 2022 Budget Session • Discussion on President's Address • Joint Sitting of Parliament • Motion of Thanks
Latest E-Books