UK, EU to announce Brexit Trade Accord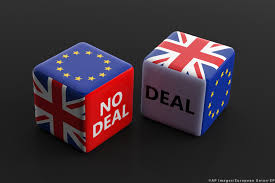 The United Kingdom and the European Union are now trying to strike a deal and define the terms of their future relationship ahead of the deadline. The deadline falls on December 31, 2020.
What is Brexit Deal?
The United Kingdom formally exited the European Union on January 31, 2020. The country then entered into an eleven-month transition period during which it continued to follow European Union rules. During the transition period, the country tried to negotiate a deal with the European Union. The deal will determine the key aspects of relationship between UK and European Union after the transition period ends. This includes defence, trade agreement, immigration, security. This deal that will determine the relationship of UK and EU is called Brexit Deal. The deal is yet to be finalised.
Major Concern: Fishing
The United Kingdom will become an independent coastal after December 31, 2020. The fishing industry of UK makes up less than 0.1% of the national economy. The fishing sector has been demanding greater access to the fishing grounds to increase the fish production of the country. On the other hand, the European Bloc has been vehemently resisting.
Other Concerns
The European highest court will continue to be the ultimate arbiter of European law. However, the UK Government has announced that the direct jurisdiction of ECJ (European Court of Justice) will come to an end. The question arises on fixing the ECJ jurisdiction in UK.
The travelling rules of UK citizens to the EU countries and vice versa are yet to be decided. Especially, the European Health Insurance Card will stop being valid for most of the British nationals.
There are now separate Trade Agreement for financial services and rules in UK and EU. The rules are separate for those services crossing their borders. Both the partners are yet to recognise each other's rules. This is making it difficult for the financial firms to export their services.
EU and UK are yet to conclude on data protection rules.
Earlier, the professionals of the UK were recognised by all the EU countries. Now, after Brexit, restrictions might arise in the recognition of their professional qualification.
UK is to lose access to several EU databases that the police use on everyday basis.
Background
UK is the only country to have withdrawn from the EU. IT triggered Article 50 to begin its Withdrawal process. The Article 50 of the Treaty on European Union was enacted by the Treaty of Lisbon in 2009.
Month: Current Affairs - December, 2020
Category: International / World Current Affairs
Topics: Boris Johnson • Brexit • Brexit deal • European Union (EU)
Latest E-Books