TRAPPIST-1 system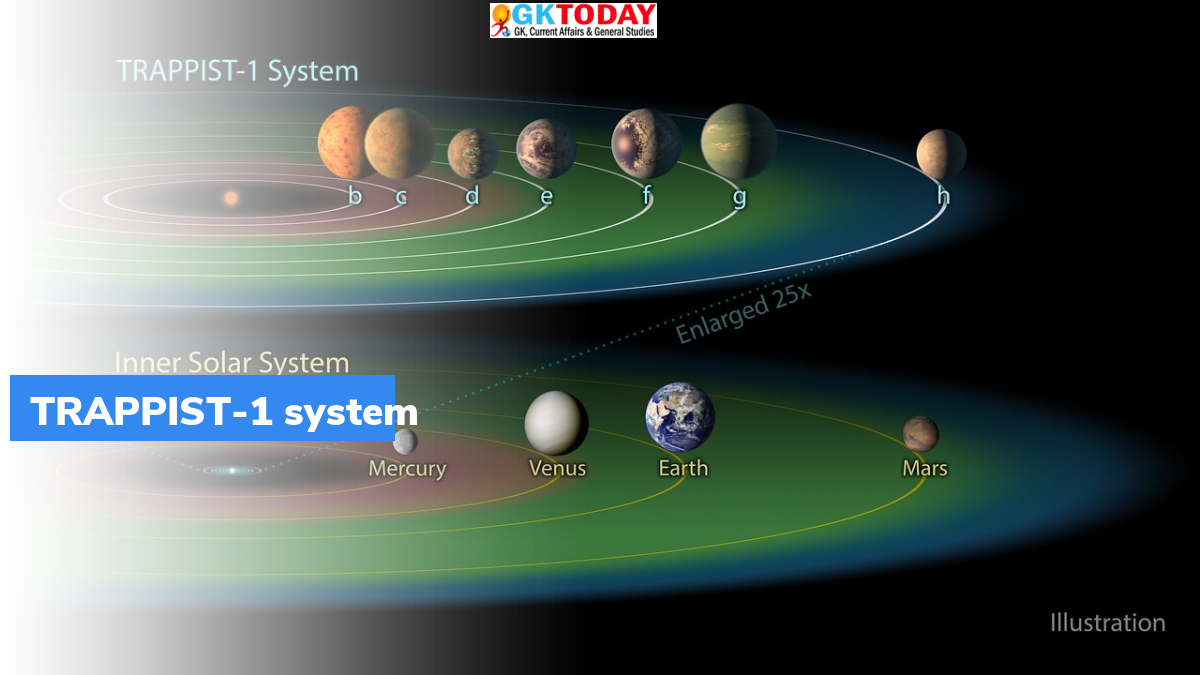 TRAPPIST-1 is a red dwarf star in the Aquarius constellation.
About TRAPPIST-1
TRAPPIST-1 was earlier known as 2MASS J23062928–0502285 or K2-112, because it was spotted with the Two Micron All-Sky Survey (2MASS). It was discovered in 1999 by astronomer John Gizis. It is older than the solar system, as it is 7.6 billion years old.
Its mass is about 9% of the Sun and its radius is slightly larger than the Jupiter. It has a surface temperature of about 2,290 °C and is about 39 light years from the Sun.
In 2016, scientists found three planets orbiting this star using the Transiting Planets and Planetesimals Small Telescope (TRAPPIST) in La Silla Observatory, Chile. Scientists named this star TRAPPIST-1 in honor of this telescope.
Planets orbiting TRAPPIST-1
In 2016, it was announced that NASA's Hubble Space Telescope has found that two planets (TRAPPIST-1b and c) were unlikely to have hydrogen-dominated atmospheres. This shows that these planets could be rocky and possibly have presence of water.
In 2017, it was announced that NASA's Spitzer Space Telescope discovered that the system has seven planets. It was believed that around three planets are located within the habitable zone of TRAPPIST-1.
A close study of the seven planets conducted in 2018, suggested that some planets could harbor far more water than the oceans of Earth.
However, there is no clear evidence whether the planets have atmosphere or not. It is difficult for planets around TRAPPIST-1 to hold onto atmosphere because radiation of TRAPPIST-1 will strip away large amounts of atmospheric gases.
James Webb Telescope
James Webb Telescope will be directed towards the TRAPPIST-1 system. It will look for signs of atmosphere on the planets of TRAPPIST-1.
Month: Current Affairs - March, 2022
Category: Science & Technology Current Affairs
Latest E-Books