Tourism and Culture Ministry inaugurates online exhibition on Ramayana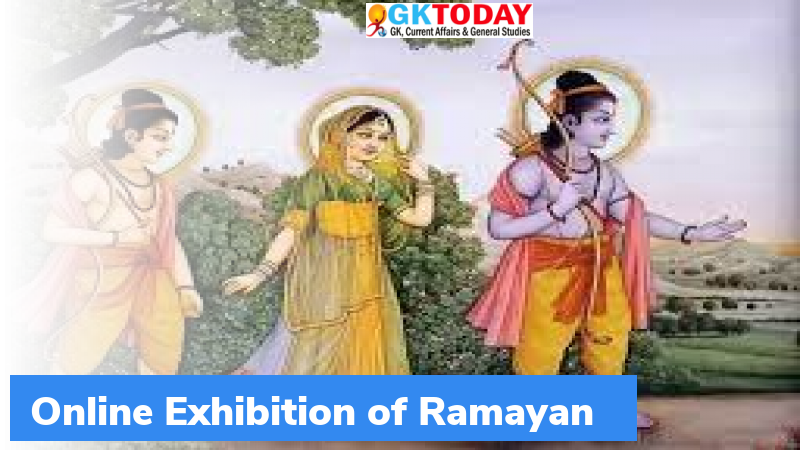 The Union Minister of Tourism and Culture Shri Prahlad Singh Patel recently inaugurated the first online exhibition of Ramayana.
About the exhibition
The exhibition will show case 49 miniature paintings. These paintings have been collected from the National Museum in New Delhi.
The paintings were dated between 17th century and  19th century.
Ramayana
Ramayana in one of the major epics of Indian history. It was written by Maharishi Valmiki. It was originally written in Sanskrit. There are several versions of the epic such as Jain versions, Buddhist versions, Sikh versions, Cambodia version, Laos versions, Thailand version, Philippines, Myanmar, etc.
UNESCO on Ramlila
In 2008, UNESCO declared Ramlila as Intangible Cultural Heritage of Humanity. The Ramlila festivities are particularly popular in Varanasi, Ayodhya, Madhubani, Satna, Almora and in major cities of Uttarakhand, Uttar Pradesh, Madhya Pradesh and Bihar.
Ramlila is now a part of Myanmar, Thailand and Cambodia as well. This is mainly because of the Hindu communities that moved to these countries in the 19th and 20th centuries.
UNESCO Intangible Cultural Heritages in India
There are thirteen Indian cultural heritages that are placed under UNESCO Intangible cultural heritage list.
The list includes expressions and traditions, artifacts, instruments, cultural spaces that are associated with cultural heritage.
The other UNESCO Intangible Cultural Heritages of India are as follows:

Buddhist Chanting (by the Buddhist lamas in Ladakh region)
Chhau Dance
Kalbelia (a song and dance form of Rajasthan)
Kumb Mela
Koodiyattam of Kerala
Mudiyett (a dance of Kerala)
Nawruz (Persian new year)
Ramman (festival of Uttarakhand)
Sanskritana
Traditional copper and brass utensil making
Yoga
Vedic Chanting
Month: Current Affairs - April, 2021
Category: Art & Culture Current Affairs
Topics: epics • Intangible Assets • Intangible cultural heritage • Ramayana • UNESCO Intangible Cultural Heritage Lists
Latest E-Books