State of Siege in Congo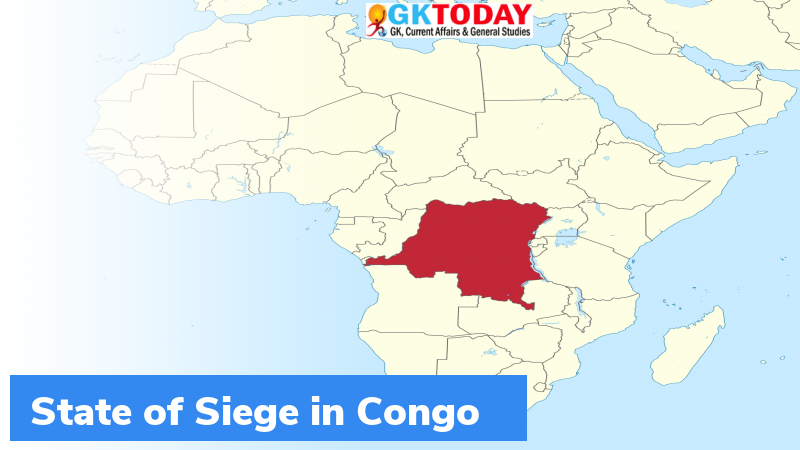 The President of Congo, Felix Tshisekedi declared a "State of Siege" due to the increasing violence in the eastern provinces of North Kivu and Ituri. The violence killed more than hundred people and displaced more than 1.5 million.
What is the issue?
A Ugandan Insurgent faction called Allied Democratic Forces is active in Congo since 1990s.These forces are being held responsible for the recent violence.
About Allied Democratic Forces
It is a rebel group operating in Congo and Uganda. It was established in 1995. It is one of the least understood extremist group in Congo. Their ideological inclination ranges from ethno-nationalism, Islamic extremism, secular nationalism and secessionism.
According to the United Nations, these forces have killed more than 850 people in 2020 since the army began operations against them.
The violence has displaced 1.6 million population and more than 2.8 million people are in need of emergency assistance.
State of Siege
It a situation where a Government puts restrictions on movement of people into or out of the country. Under this, the police could arrest suspects without warrants or charges.
Democratic Republic of Congo resources
The country is the wealthiest country in the world. The untapped resource wealth of Congo has been estimated as 24 trillion USD. It includes the world largest reserves of Coltan. Coltan is a mineral that is composed of tantalite and columbite. Coltan is refined to get Tantalum.
Rwanda is the biggest Tantalum producer. The other top producers of Tantalum are Nigeria, Brazil and China.
MONUSCO
MONUSCO is the United Nations Stabilization Mission in the Democratic Republic of Congo. India was the single largest contributor to the force in 2010. However, in 2011, India announced that it is withdrawing its forces.
Month: Current Affairs - May, 2021
Category: International / World Current Affairs
Topics: Congo • MONUSCO • President of Congo • Rebels • State of Siege • Tantalum • Uganda • United Nations • Violence
Latest E-Books