RBI Deputy Governor Viral Acharya quits before his term ends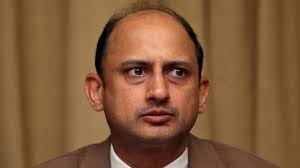 Viral Acharya Deputy Governor of Reserve Bank of India (RBI) has resigned from his position 6 months before the end of his term citing reason as unavoidable personal circumstances.
Acharya, who joined RBI on 23 January 2017 for a three-year term, was youngest deputy governor of RBI post economic liberalisation. He may now return to New York University Stern School of Business (NYU Stern) in August 2020 instead of February 2020.
Key Highlights
RBI Deputy Governor Viral Acharya resignation is second high profile resignation at Reserve Bank of India (RBI). In December 2018 Urjit Patel former RBI governor, also resigned about nine months before end of his schedule term citing personal reasons.
Acharya's resignation is also significant as he resigned shortly before Bimal Jalan committee is to submit its report on whether RBI reserves could be transferred to Centre government or not.
Mr. Acharya who was in charge of the monetary policy department, created a controversy in October 2018 by strongly alluding to encroachment on autonomy of apex bank of country by government. One of the main tension points he highlighted was treatment of RBI reserves.
RBI is left with only 3 Deputy Governors- N.S. Vishwanathan, B.P. Kanungo and M.K. Jain.
Conflict: Dr. Acharya has been differing with RBI Governor Shaktikanta Das in last two Monetary Policy Committee (MPC) meetings on both growth and inflation. In latest monetary policy meeting also, RBI Governor Das and Deputy Governor Acharya differed strongly on state of fiscal deficit and how to account for that. Acharya, who was in charge of monetary policy department while ending his term warned of wrath of markets if autonomy of a central bank was compromised.
About Reserve Bank of India
RBI is India's central banking institution, which controls issuance and supply of Indian rupee.
The RBI began its operations on 1 April 1935 in accordance with Reserve Bank of India Act, 1934. RBI was nationalised on 1 January 1949, after India gained independence on 15 August 1947.
Until Monetary Policy Committee was established in 2016, it also controlled monetary policy in India.
Month: Current Affairs - June, 2019
Category: Economy & Banking Current Affairs - 2022
Topics: B.P. Kanungo • Bimal Jalan Committee • deputy governor • M.K. Jain • N. S. Vishwanathan • New York University Stern School of Business • RBI Governor Shaktikanta Das • Reserve Bank of India • Urjit Patel • Viral Acharya • Viral Acharya Rresigns RBI
Latest E-Books