Rakhigarhi Excavation -Recent finds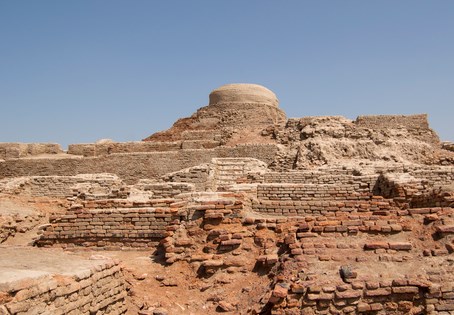 The latest round of excavations at the Rakhigarhi site led to some discoveries
What things have been found in the latest round of excavations?
The latest round of excavations revealed the structure of some houses, lanes and drainage systems, and a jewelry-making unit. Pieces of copper, gold jewelry, terracotta toys, earthen pots, and seals were also found.
Who conducted the excavations?
Archaeological Survey of India (ASI) conducted the three-month-long phase of excavations.
What is the significance of the present round of excavation?
This is the first time excavations have been done on Mound No. 3, which has revealed "an aristocratic settlement".
Where the findings will be kept?
An agreement is in process between the Archaeological Survey of India (ASI) and the Haryana government. As per the agreement, antiquities from Rakhigarhi will be displayed at the adjacent under-construction museum being built by Haryana for Rs 23 crore.
What is the aim of excavation?
To understand Rakhigarhi and to identify the individuality and interrelationship of the seven mounds.
To make Rakhigarhi accessible to people by exposing the structural remains and conserving them for the future, along with providing amenities to the visitors.
What is the significance of Rakhigarhi?
It is an archaeological site belonging to the mature phase of the Indus Valley Civilisation, dating to 2600-1900 BCE. It was among the largest settlements of the ancient civilization, though most of it remains unexcavated. The site is located in the Ghaggar-Hakra River plain.
Where is Rakhigarhi located?
Rakhigarhi is in Haryana's Hisar district. It is situated around 150 km from New Delhi. Rakhigarhi is among the five iconic sites announced by Union Finance Minister Nirmala Sitharaman during her Budget Speech in February 2020.
What are the other four iconic sites?
The other iconic sites are Hastinapur in Uttar Pradesh, Sivasagar in Assam, Dholavira in Gujarat, and Adichanallur in Tamil Nadu.
When was the Rakhigarhi site first excavated?
The site was first excavated by the Archaeological Survey of India (ASI) in 1998-2001. Later, Deccan College, Pune, excavated the site from 2013 to 2016.
Month: Current Affairs - May, 2022
Category: Art & Culture Current Affairs
Topics: excavation • Harappa • Mohenjadaro • Rakhigarhi
Latest E-Books