Partners in the Blue Pacific' initiative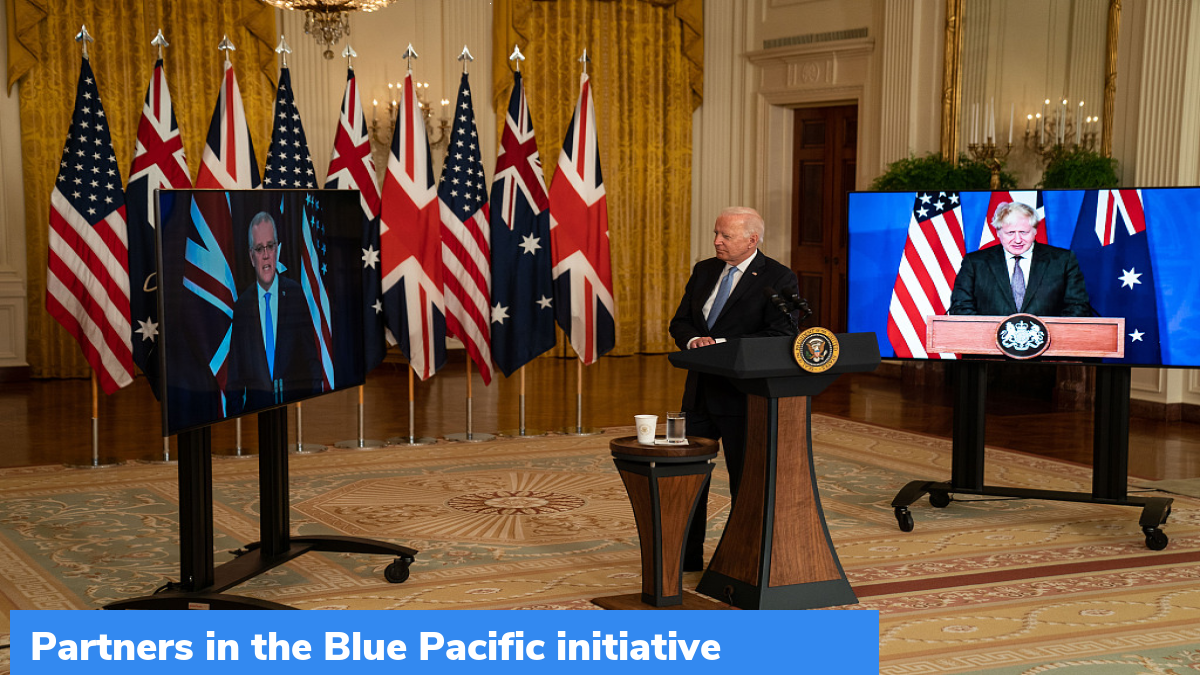 The United States and allied countries namely Australia, Japan, New Zealand and the United Kingdom; have launched a new initiative called 'Partners in the Blue Pacific'.
Highlights
This initiative was launched amid China's aggressive push of increasing its influence in Pacific.
Under the new initiative, countries will involve in "effective and efficient cooperation" with small island nations of the region.
The geostrategic competition in Pacific region has intensified of late after China's scope of increasing footprint in the region was made clear by signing common cooperation agreement with 10 Pacific countries.
About Partners in the Blue Pacific initiative
The Partners in the Blue Pacific Initiative is a five-nation "informal mechanism", launched for supporting Pacific islands and for boosting economic and diplomatic ties in the region. This initiative was announced on June 24, 2022. It seeks to enhance "prosperity, resilience, and security" in the Pacific by closer cooperation among the member nations. Member countries would cooperate in areas including climate crisis, transportation, connectivity, health, maritime security & protection, prosperity and education.
Pacific Islands Forum
Members of the new initiative have also declared to "elevate Pacific regionalism", as well to establish stronger ties with the Pacific Islands Forum. Countries announced that, this forum will remain open to cooperate with additional partners.
China's footprint in the Pacific
China inked a security pact with Solomon Islands in April 2022, which raised concerns about Chinese military getting a base in southern Pacific, near to Guam island (a territory of US), and next to New Zealand & Australia. This deal has boosted China's aim to dominate shipping lanes in the region.
Other steps taken by US and its allies to counter China
IPEF: Before the launch of Partners in the Blue Pacific Initiative, US and its partners had launched "Indo-Pacific Economic Framework for Prosperity (IPEF)". It is a trade-boosting framework, launched in association of 13 member countries; namely, Brunei, India, Australia, Japan, New Zealand, Indonesia, Malaysia, Singapore, South Korea, the Philippines, Vietnam, Thailand and Fiji.
PGII: G7 announced the "Partnership for Global Infrastructure and Investment (PGII)" on June 27, 2022 to counter China's Belt and Road Initiative. It promised USD 600 billion to fund development projects across low and middle-income countries.
Significance of Pacific region
Pacific region is strategically significant, because it is home to the world's most populous democracy (India), most populous country (China), and the largest Muslim-majority country (Indonesia). Out of 10 largest standing armies of world, 7 are in Indo-Pacific region. Out of 10 busiest seaports, 9 are in this region only. 60 percent of the global maritime trade transits through Asia, with around one-third passing through South China Sea alone.
Month: Current Affairs - June, 2022
Category: International Current Affairs
Topics: Indo-Pacific Economic Framework for Prosperity (IPEF) • Indo-Pacific Region • Pacific Islands Forum • Partners in the Blue Pacific initiative • Partnership for Global Infrastructure and Investment (PGII)
Latest E-Books