What are the views for and against adopting an Open Door Refugee Policy by India?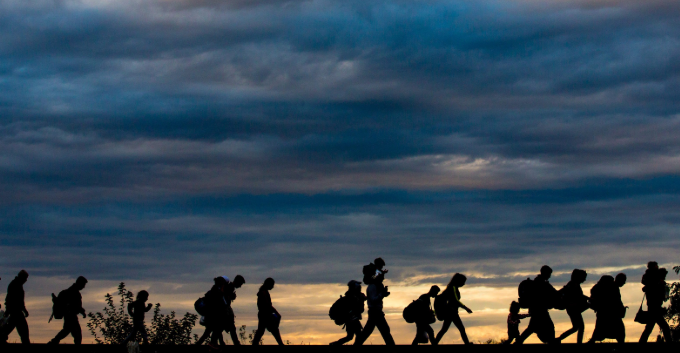 Refugees are the people who have been forced to leave their country in order to escape war, persecution, or natural disaster. The tough stance of the government against Rohingya refugees who are referred as world's most persecuted minorities is put into question in the Supreme Court.
Basic Tenets of Indian Refugee Policy
The successive governments have dealt with refugee question on case by case basis. Various approaches of India towards refugees can be summed up as follows:
The Tibetan refugees were given the Registration Certificates and the Identity Certificates.
The Sri Lankan Tamils, who fled their country, were classified as "camp refugees" and "non-camp refugees".
The minority refugees – Hindus, Sikhs, Buddhists, Jains, Parsis and Christians – from Afghanistan, Bangladesh and Pakistan were allowed to stay in India on Long Term Visas.
In 2015 MP Shashi Tharoor introduced a Private Member's Bill titled the Asylum Bill, 2015 in the Lok Sabha. The Bill sought to provide for the establishment of a legal framework to deal with refugee problem. But, the Bill has not yet been taken up for consideration. We note here that  India doesn't have any legal obligation as it is not a signatory to UN refugee convention.
Open Door Policy towards Refugees: Pluses and Minuses
The key points in support of the Open Door Refugee Policy are as follows:
Such a policy would reiterate the value system of India which underlines "Vasudeva Kutumbakam" and India will stand with the vulnerables.
It would increase India's stature of Champion of Human rights in International arena.
It would corresponds to high standards India has shown during crisis of Chakma refugees and Tibetan refugees.
It will help India in building its image in international arena and a definite stance will belittle the critics who project India as a fence sitter.
When India's demand of permanent Seat in UNSC comes to question, this humanitarian approach with refugees will be of great advantage.
However, such a policy would open Pandora's Box because:
India is located in the close neighborhood of Instability. Open doors may adversely affect India's internal and external security.
The open door for Bangla refugees during the 1971 war is burdening India even today. The refugee issue has taken communal color and is posing a serious challenge for India.
India is facing a deficit to effectively mould its human resources and creating employment. Open doors will increase the financial burden of India.
Refugee crisis is deeply intertwined with the aspects of International issues, Security challenges, demography, and India's diversity. Therefore rather than having a clear cut directions for government through a policy the government of the day must be empowered to take decisions based on the prevailing circumstances.
Topics: Aftermath of war • Demography • Forced migration • Indian people • Refugee • Refugee crisis • Refugees • Right of asylum • Shashi Tharoor • Writers
Latest E-Books